DECEMBER 8, 9:00am: As part of the deal, the Wizards also removed the protections on the 2020 second-round pick they owe the Bucks, reports Keith Smith of Yahoo Sports (Twitter link). In summation, the trade looks like this, as Smith tweets: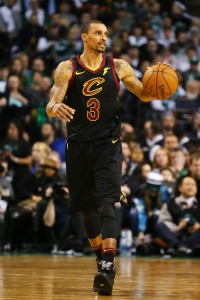 Bucks receive George Hill, Jason Smith, cash considerations (from Wizards), the Wizards' 2021 second-round pick (from Cavaliers), and the protections removed on the Wizards' 2020 second-round pick.
Cavaliers receive John Henson, Matthew Dellavedova, the Bucks' 2021 first-round pick (protections detailed below), the Bucks' 2021 second-round pick, and the Wizards' 2022 second-round pick.
Wizards receive Sam Dekker.
DECEMBER 7, 9:25pm: The trade is official, according to a Cavaliers press release. as relayed by Sports Illustrated's Chris Mannix.
6:20pm: The Wizards have agreed to make it a three-team deal by acquiring Dekker for big man Jason Smith and a second-round pick, Wojnarowski tweets. The Cavs will swap a 2021 second-rounder with Washington for a 2022 second-rounder, Brian Windhorst of ESPN tweets.
5:05pm: The Bucks have agreed to acquire veteran guard George Hill from the Cavaliers in exchange for guard Matthew Dellavedova, injured center John Henson and first- and second-round picks in 2021, Adrian Wojnarowski of ESPN tweets.
Cleveland is also sending forward Sam Dekker to Milwaukee, Brian Windhorst of ESPN tweets.
As always, the deal is contingent on the players passing physicals.
The Bucks will save approximately $18MM for the 2019/20 season with this move, which will increase their flexibility to make more moves next summer, Wojnarowski notes in a separate tweet. With Khris Middleton and Eric Bledsoe both on track to become free agents in July, that extra flexibility could be crucial.
The Cavs are showing a continued willingness to take on salary in order to acquire future assets, Wojnarowski adds.
There was a sense of urgency in getting this deal done on Friday. These players are now eligible to be aggregated on the February 7th trade deadline, Wojnarowski points out in another tweet. Thus, these players can be combined with other contracts in a deadline deal.
While Cleveland is technically acquiring Milwaukee's 2021 first-rounder in the deal, it's likely to get pushed back to 2022. That's because the first-rounder that Milwaukee owes Phoenix next summer almost certainly won't change hands until 2020, as it's protected 1-3 and 17-30 for 2019. Since teams can't trade future first-round picks in back-to-back seasons, the Cavs would have to wait an extra year to get their pick from Milwaukee.
There are protections on the first-round pick going to Cleveland, according to Zach Lowe of ESPN (Twitter link). The first-rounder is protected 1-14 in 2021; 1-10 in 2022; 1-10 and 25-30 in 2023; and 1-8 in 2024. If still not conveyed by then, it converts to two second-rounders in 2025.
Hill is making $19MM this season but his $18MM salary for next season doesn't become fully guaranteed until July 1. Only $1MM is guaranteed, Bobby Marks of ESPN tweets. Milwaukee will almost assuredly cut him loose before then, eating his $1MM partial guarantee. However, Hill can be a contributor this season on a playoff contender.
He joins a guard rotation that includes Eric Bledsoe, Malcolm Brogdon and Tony Snell. The addition of Hill would seemingly reduce Donte DiVincenzo's minutes.
Henson is making $11.3MM this season and has a $10.5MM guarantee for next season in the final year of his deal. He recently underwent wrist surgery and could miss the rest of the season.
Dellavedova, who will begin his second stint in Cleveland, is making $9.6MM this season and the same amount next season.
Dekker is making $2.76MM and Milwaukee would have to extend a $3.9MM qualifying offer after the season to make him a restricted free agent.
Photo courtesy of USA Today Sports Images.