Over the course of the 2018/19 NBA season, up until February's trade deadline, we're keeping an eye on potential trade candidates from around the NBA, monitoring their value and exploring the likelihood that they'll be moved. Each of these looks at possible trade candidates focuses on a specific division, as we zero in on three players from that division.
The NBA's Southwest division continues to defy expectations as the 2018/19 season nears its one-third mark. Dallas and Memphis were expected to sit at the bottom of the Southwest this year, but the Mavericks currently have a better record than their fellow Texas teams in San Antonio and Houston, while the Grizzlies are in first place in their division. The unpredictability has resulted in some unexpected trade candidates.
Here's our latest look at a few possible trade candidates from the Southwest…
Carmelo Anthony, F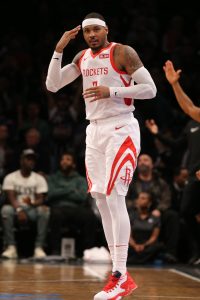 Houston Rockets
$1.51MM cap hit; unrestricted free agent in 2019

It has been three weeks since the Rockets confirmed they'd be parting ways with Anthony, but the veteran forward remains in limbo. It's possible that Houston is putting off releasing Anthony because there's concern he'll be claimed off waivers by a team he doesn't want to join — or perhaps the Rockets, who already have one open roster spot, don't want to have to replace him on their roster, which would increase their projected tax bill.
However, it also seems likely that the Rockets are waiting until December 15 before making any final decisions on Anthony. That's the date he'll become eligible to be traded.
It's not clear whether there are teams in there with immediate interest in acquiring Anthony, but if there are, a trade should be simple enough — because he's on a minimum-salary contract, the 34-year-old can be acquired using the minimum salary exception, negating the need for salary-matching, and Houston certainly won't be asking for anything of value in return.
If there has been no resolution on Anthony by December 15, that resolution should come shortly thereafter, as the Rockets assess whether there's a deal to be made for the 10-time All-Star.
Pau Gasol, C
San Antonio Spurs
$16.8MM cap hit; $16MM salary for 2019/20 partially guaranteed ($6.7MM)

The Spurs are only two games out of a playoff spot in the West, but their 11-14 record places them 14th in the conference. They've dropped 12 of their last 17 games, including three recent losses by 30 or more points. If this slump continues, there's a real possibility that selling will make more sense than buying at the trade deadline.
In that scenario, Gasol could become a trade chip. Typically, a 38-year-old who is earning $16.8MM and recovering from a stress fracture is an albatross, but if Pau gets healthy, he should have some appeal in the right situation.
Gasol's partial guarantee for next season makes his contract a bit more manageable, and he's the sort of veteran who could fit into just about any situation, playing 15 minutes or so off the bench. Again though, he has to get back to 100% first before he'll have any value, and at his age, that's not necessarily a given.
Dennis Smith Jr., G
Dallas Mavericks
$3.82MM cap hit; on rookie contract; eligible for restricted free agency in 2021

There have been no reports this season suggesting that the Mavericks are mulling the possibility of trading Smith, but Luka Doncic's emergence has increased the pressure on Dallas' 2017 lottery pick. While it may be too early to dub Doncic the Mavs' next franchise player, the early returns on this year's No. 3 selection suggest that he should be the team's primary play-maker for years to come.
If that's the case, the Mavericks will need to determine whether Smith makes sense alongside Doncic for the long term. If management believes the two youngsters can coexist and thrive together, there's no reason to do anything with DSJ except look ahead to his next contract. If there are doubts about the pairing, the Mavs should start thinking about a potential deal.
After all, outside of perhaps Wesley Matthews' expiring contract and one or two others, the Mavericks don't have a ton of attractive trade chips. Smith would be a big one, and if moving him allows the franchise to acquire another long-term piece that fits better alongside Doncic, it's worth considering.
While I don't expect Smith to go anywhere this season, we'll be monitoring this situation going forward.
Previously:
Photo courtesy of USA Today Sports Images.