The Knicks have traded Kristaps Porzingis, Courtney Lee, Trey Burke and Tim Hardaway Jr. to the Mavericks for Dennis Smith Jr., DeAndre Jordan, Wesley Matthews and two first-round picks, both teams announced in press releases Thursday.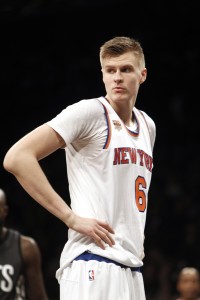 News of this deal comes just shortly after word broke that Porzingis had met with Knicks management to express frustration with the direction of the organization, leaving the team with the impression that he wanted to be moved. While Porzingis' preference to be dealt may have jump-started these talks, it didn't take the Knicks long to find a potential deal they liked, suggesting that they may not have been fully invested in the relationship either.
"As is standard for this time of year, we were exploring various options on potential trades," Knicks general manager Scott Perry said in a statement. "Considering the uncertainty regarding Kristaps' free agent status and his request today to be traded, we made a trade that we are confident improves the franchise."
From the Knicks' perspective, moving on from Porzingis by attaching two unwanted multi-year contracts to him creates some tantalizing free agent possibilities for the franchise. By replacing Porzingis' cap hold ($17.09MM), Hardaway's salary ($18.15MM), and Lee's salary ($12.76MM) with Smith's modest $4.46MM salary on the 2019/20 books, the Knicks will reduce their commitments by approximately $43.5MM, which should open up enough cap room for two maximum-salary free agents.
The Knicks' only players with guaranteed contracts for 2019/20 are Smith, Frank Ntilikina, Kevin Knox, and Mitchell Robinson. Armed with those youngsters and a likely top-five pick, New York will enter free agency with the ability to potentially land two free agents from a group that includes Kevin Durant, Kemba Walker, Kyrie Irving, and others.
Besides creating substantial cap flexibility, the Knicks will acquire Smith, a second-year guard who wasn't happy with his role in Dallas. The ninth overall pick in the 2017 draft, DSJ saw his responsibilities dialed back due to Luka Doncic's emergence this season. Smith has still built upon some of last year's numbers, averaging 12.9 PPG, 4.3 APG, and 3.0 RPG with a .440/.344/.695 shooting line. He now appears poised to take over point guard duties in New York, a year after the team passed on him to draft Ntilikina.
New York also acquired a 2021 unprotected first-round pick and 2023 protected first-round pick (1-10) in the trade agreement, ESPN's Adrian Wojnarowski and Ian Begley reported.
"We feel like we did the right thing," Knicks president Steve Mills said, according to Begley. "When you try to think about how you want to build your team for the long term, you don't want to commit a max (contract) to a player who clearly says to you he doesn't want to be here."
Jordan and Matthews, who are on pricey expiring deals, likely don't have a future in New York. Rival executives expect the Knicks to explore the trade market over the next week for potential deals involving those veterans, according to Jake Fischer of SI.com (Twitter link). Both Fischer and ESPN's Bobby Marks (Twitter link) suggest that Jordan and Matthews will be intriguing buyout candidates if they're not flipped by the Knicks.
Perry emphasized in a conference call Thursday that both Jordan and Matthews could have a positive impact on their young players for the remainder of the season, as relayed by Begley. This, of course, is provided they aren't traded or bought out from their current deals. This statement drew a questioning response on social media from Knicks center Enes Kanter, another candidate to be traded by the deadline.
Meanwhile, the deal represents a huge swing for the Mavericks, who will pair Porzingis with Doncic with an eye toward keeping both players in Dallas for years to come. By taking on the multiyear contracts for Hardaway and Lee in exchange for Jordan and Matthews, Dallas will almost certainly give up its chance to create cap room in 2019, but will be on track to open up significant space in 2020, while Doncic is still on his rookie contract. Porzingis posted a clip of him shaking hands with Doncic after the trade became official, clearly excited for his new partnership in Dallas.
An All-Star a year ago, Porzingis averaged 22.7 PPG, 6.6 RPG, and 2.4 BPG with a .439/.395/.793 shooting line in 48 games in 2017/18, displaying franchise-player potential. However, a torn ACL ended his season early and has sidelined him for the entire 2018/19 campaign so far. He'll be a restricted free agent this summer, at which point he could sign his one-year qualifying offer, sign an offer sheet with another team, or negotiate a new deal directly with the Mavs.
[RELATED: Porzingis plans to tell Mavs he'll sign qualifying offer?]
Dallas also created a $12.9MM trade exception in the agreement, according to ESPN's Adrian Wojnarowski (Twitter link).
Additionally, Marks notes (via Twitter) that the two teams will have to account for Hardaway's 15% trade bonus, which is currently worth $3.75MM. Assuming THJ doesn't waive it, his cap hits will increase by $1.875MM annually for this season and next, and the Knicks will have to pay the bonus money.
Photo courtesy of USA Today Sports Images.