JANUARY 28th, 5:02pm: Oladipo underwent surgery on the ruptured quad tendon Monday, according to a team press release. There is no timetable for his return.
JANUARY 24th, 12:05pm: The Pacers have issued a formal update on injured guard Victor Oladipo, announcing today in a press release that an MRI revealed a ruptured quad tendon in his right knee. Oladipo will undergo surgery at a later date to repair the injury and will miss the rest of the 2018/19 season, according to the club.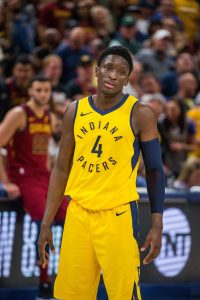 It's a brutal blow for a Pacers team that had established itself as one of the clear top five teams in the Eastern Conference this season, along with the Raptors, Bucks, Sixers, and Celtics. While the Pacers may not have been favored against any of those clubs in a playoff series, they had been holding onto the East's No. 3 seed at 32-15, putting the club in position for a potential first-round series win.
Without Oladipo, the Pacers figure to remain in the top five in the East, but it's hard to imagine the team hanging onto the No. 3 seed, and a first-round postseason exit seems much more likely today. Still, the Pacers held their own when Oladipo missed time with a bone bruise earlier in 2018/19, posting a 7-4 mark, so we'll see how they look without their star player down the stretch this season.
As ESPN's Adrian Wojnarowski observes (via Twitter), a ruptured quad is a pretty rare injury among NBA players and one that's challenging to come back from. Charles Barkley and Tony Parker suffered the same injury in the past, with Parker rupturing his quad less than two years ago. The Pacers and Oladipo will likely study Parker's rehab and recovery process closely, Wojnarowski notes.
In Oladipo's absence, the Pacers figure to lean more heavily on veteran guards Darren Collison, Cory Joseph, and Tyreke Evans. 2018 first-rounder Aaron Holiday also may reclaim a regular rotation role, as he did during Oladipo's previous stint on the inactive list.
The Pacers are ineligible to apply for a disabled player exception to replace Oladipo for the rest of the season, since the deadline to request a DPE was January 15. The club will have an open roster spot once Stephan Hicks' 10-day contract expires if it wants to add any more veteran backcourt depth.
Photo courtesy of USA Today Sports Images.