6:58pm: The Sixers have officially traded Markelle Fultz to the Magic for Jonathon Simmons, a protected 2020 first-round pick and 2019 second-round pick, the teams announced in press releases.
"We are extremely excited to welcome Markelle [Fultz] to the Magic family," president of basketball operations Jeff Weltman said. "This is an incredible opporunity for us to add a former No. 1 draft pick to our roster and to add depth to our backcourt. We will provide Markelle with the best possible support at his own pace and look forward to his future contributions."
1:45pm: The Sixers are trading former No. 1 overall pick Markelle Fultz to the Magic, reports ESPN's Adrian Wojnarowski (via Twitter). In exchange, Philadelphia will receive Jonathon Simmons, a future Thunder first-round pick, and a future Cavs second-rounder from Orlando, tweets Kevin O'Connor of The Ringer.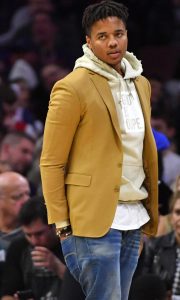 It's a huge decision for the 76ers, just a year and a half after then-GM Bryan Colangelo sent the No. 3 pick (Jayson Tatum) and a future first-rounder to Boston in exchange for the right to select Fultz first overall.
The former Washington standout has barely seen the court since then, having been sidelined by shooting issues that some observers believe are mental. Fultz was diagnosed with Thoracic Outlet Syndrome in December and continues his rehab process.
A source tells Keith Smith of Yahoo Sports (Twitter link) that Orlando will be patient with Fultz, taking the long view and potentially sitting him out the rest of this season if needed. However, the club will continue pushing for a playoff spot in the East this season.
Smith suggests (via Twitter) that the Magic opted to include the Thunder first-rounder in the deal so they'd only part with Simmons rather than Terrence Ross — Ross will remain with Orlando and help the team's efforts to make the postseason.
The Thunder pick involved in the swap is OKC's 2020 selection, which is top-20 protected and will turn into 2022 and 2023 second-rounders if it's not conveyed next year. The pick, which was originally traded to Philadelphia for Jerami Grant, was subsequently sent to Orlando in a draft-night trade in 2017 for Anzejs Pasecniks. Now it's headed back to Philadelphia.
The second-round pick included in the deal is technically the most favorable of Cleveland's, Orlando's, Houston's, or Portland's 2019 second-rounders. For now, that projects to be the Cavs' pick.
In addition to those draft assets, the Sixers will acquire Simmons, a wing with some size who can immediately step into the club's rotation. In 41 games this season for Orlando, Simmons averaged just 6.9 PPG on .364/.229/.778 shooting, but he was much better in his first year with the Magic, posting 13.9 PPG on .465/.338/.768 shooting in 2017/18.
Between this deal and their James Ennis swap with the Rockets, the Sixers were able to add two wings for depth purposes today while also replenishing their collection of draft picks that took a hit in Wednesday's Tobias Harris trade.
Photo courtesy of USA Today Sports Images.