3:44pm: The Grizzlies have sent out a press release officially confirming Bickerstaff's firing and the front office changes detailed below.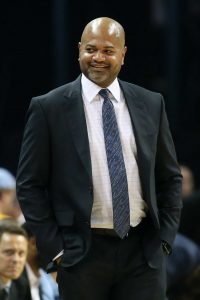 "In order to put our team on the path to sustainable success, it was necessary to change our approach to basketball operations," Pera said in a statement. "I look forward to a re-energized front office and fresh approach to Memphis Grizzlies basketball under new leadership, while retaining the identity and values that have distinguished our team.
"I want to thank Chris and John for their long-term service and dedication to the Memphis Grizzlies and for their considerable contributions to our past successes, and look forward to their contributions to our future ones. I also want to thank J.B. for his leadership and commitment to our organization in his time as our coach."
3:01pm: The Grizzlies are shaking up their front office and coaching staff, according to ESPN's Adrian Wojnarowski, who reports (via Twitter) that the team has dismissed head coach J.B. Bickerstaff and re-assigned head of basketball operations Chris Wallace to the scouting department. VP John Hollinger will also move to a senior advisory role, Wojnarowski adds.
The Grizzlies will promote Jason Wexler to team president and will have him oversee both the basketball operations and business operations for the franchise, reports Wojnarowski (via Twitter). Wexler had previously been the club's president of business operations.
According to Wojnarowski, Zach Kleiman – previously an assistant GM – will be elevated to executive VP of basketball operations and will take the lead on day-to-day basketball matters. Memphis will launch a search for a new head coach and will also pursue some more experienced basketball executives to join the front office, sources tell Woj (Twitter link).
The news comes just hours after Wallace addressed local media in his end-of-season press conference, telling reporters that he wasn't particularly concerned about his job security and that Bickerstaff was expected to return for next season.
It's not a particularly good look for the Grizzlies, who probably shouldn't have let Wallace move forward with his end-of-season presser and discuss his plans for Memphis' future if they intended to do this later in the day. David Cobb of The Memphis Commercial Appeal calls it "blatantly disrespectful" (Twitter link), while longtime Grizzlies beat writer Ronald Tillery asserts that team owner Robert Pera "doesn't care about" Memphis' fans or players (Twitter link).
According to Shams Charania of The Athletic (via Twitter), Bickerstaff conducted exit meetings with Grizzlies players today, discussing expectations for the summer and ways to improve. Bickerstaff's own exit meeting with ownership happened afterward.
Bickerstaff, who took over as the Grizzlies' interim head coach during the 2017/18 season when David Fizdale was fired, led the team to an underwhelming 15-48 record to finish the season. However, Memphis opted to make Bickerstaff the permanent head coach last spring, citing his connection with – and his ability to develop – the team's players. After posting a 33-49 record in 2018/19, the Grizzlies will now once again be on the lookout for a new head coach.
As for Wallace, this isn't the first time he has been demoted by Grizzlies ownership. Initially hired as the team's general manager in 2007, he was displaced in 2012 when Jason Levien assumed control of basketball operations. Wallace regained his front office power in 2014, with mixed results since then.
Prior to selecting Jaren Jackson with the fourth overall pick in the 2018 draft, Wallace's first-round selection since '14 were Jordan Adams, Jarell Martin, and Wade Baldwin. His most notable free agent signing over the last few years was Chandler Parsons, who received a four-year, maximum-salary contract from the Grizzlies and has limited to just 95 games since then due to injuries.
While Wallace's front office has made a few savvy moves, including netting a first-round pick for Jeff Green, his missteps – such as flipping that first-rounder to Boston for Deyonta Davis and Rade Zagorac – likely outnumbered his successes. Since winning 55 games in 2014/15, Memphis has gone 140-188 in four seasons and hasn't won a playoff series.
Photo courtesy of USA Today Sports Images.