While the NBA won't announce this year's award winners until June, we're making our picks for 2019's major awards over the next two weeks.
The Hoops Rumors writing team has weighed in with our choices below, but we also want to know which players, coaches, and executives you think are most deserving of the hardware this season, so jump into the comment section below to share your thoughts.
We're kicking things off today with the award for Executive of the Year. Here are our selections: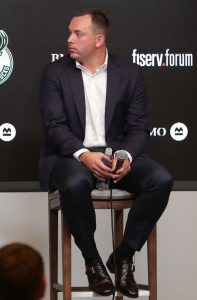 Chris Crouse: Jon Horst (Bucks)
There are many deserving candidates this season, but Horst's work in putting a full team around Giannis Antetokounmpo is especially deserving of recognition. The Bucks had the best record in the league backed by the best defense in the NBA and a top-5 offense.
Milwaukee's maneuvers over the past few years began this journey to what could be a 2018/19 Eastern Conference crown and Horst's transactions since the end of last season took the team from an up-and-coming squad to a legit contender. Signing Brook Lopez with the bi-annual exception, negotiating the pair of trades that netted Nikola Mirotic, and inking Eric Bledsoe to a long-term deal all qualify as wins. Landing Mike Budenholzer to coach the team is also a major accomplishment.
The executive of the year award sometimes rewards team presidents and GMs for the culmination of their work and in other years, it's based on the moves made within the calendar year. Horst checks off both boxes and should receive this season's hardware.
Clark Crum: Jon Horst (Bucks)
The Bucks won 60 games when nobody expected them to do so and finished with the franchise's best regular season record in 38 years. Horst's best move was clearly hiring head coach Budenholzer this offseason, but let us not forget the other, smaller transactions he oversaw along the way. First, he didn't overpay Jabari Parker, opting instead to rescind the former No. 2 overall pick's qualifying offer. He then signed (no, stole) Lopez for only $3.3MM and also traded for both George Hill and Mirotic. The Bucks had a terrific season, and Horst should be recognized as such.
Austin Kent: Brett Brown/Elton Brand (Sixers)
The departure of LeBron James last summer left a gaping hole at the top of the Eastern Conference and there was no shortage of teams eager to make short-term moves and fill it. The front office that best positioned itself to leave a larger impact in 2018/19 than it did last season was Philadelphia.
Brett Brown and Elton Brand helped the Sixers evolve this season from an upstart young team with a hypothetically great young duo into a legitimate championship threat. They could have played it safe and let Joel Embiid and Ben Simmons sharpen their teeth in the playoffs – nobody would have derided them for a loss in the first or second round – but they altered their roster significantly to pad their core with a hardened leader in Jimmy Butler and underrated supplemental star in Tobias Harris.
The fact that they did so while patching together a competent rotation on the fly and not mortgaging their future is an accomplishment worthy of praise.
Dana Gauruder: Jon Horst (Bucks)
We've seen other small market teams make missteps while building around a superstar. Horst and the Bucks have mostly made the right moves while heading into the playoffs with the NBA's best record.
Lopez turned into one of the biggest steals in last season's free agent market. Horst won the bidding for Mirotic at the trade deadline and the sharp-shooting forward could be a key in the playoffs. Hill's contract (non-guaranteed $18MM next season) gives the front office some flexibility. Bledsoe's extension near season's end was a reasonable price for a starting point guard. All in all, nice work for a young GM.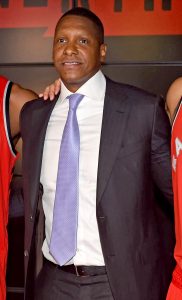 Luke Adams: Masai Ujiri (Raptors)
The criteria for Executive of the Year isn't quite as byzantine as the criteria for some of the NBA's other awards, but it can still be tricky to determine how heavily to weigh the impact of an executive's current-season moves versus his previous moves coming to fruition. In Ujiri's case, it's hard to separate the two, given how obviously they're connected.
His biggest swing – acquiring Kawhi Leonard and Danny Green for DeMar DeRozan, Jakob Poeltl, and a draft pick – was a direct response to the Raptors' previous playoff failures and has worked out so far, raising the team's postseason ceiling. Meanwhile, many of Ujiri's previous non-lottery draft picks or UDFA signings have either developed into important rotation players – like Fred VanVleet, Norman Powell, and especially Pascal Siakam – or have been key pieces in major trades, as was the case for Poeltl and Delon Wright (dealt in the package for Marc Gasol).
It remains to be seen whether the Raptors can exorcise their playoff demons and make a legitimate title run, but Ujiri has been aggressive and creative in building the most talented roster Toronto has ever had.
Arthur Hill: Jon Horst (Bucks)
The Bucks have seemed destined for greatness ever since drafting Antetokounmpo, but Horst found the right complementary players and the right coach to make it happen. Signing Lopez and Ersan Ilyasova in free agency and then adding Mirotic in a deadline trade gave the Bucks plenty of shooters to surround Antetokounmpo and to maximize Budenholzer's philosophy that emphasizes the 3-pointer. Horst made all the right decisions to lead Milwaukee to the best record in the league.
Who is your pick for Executive of the Year? Share your choices and your thoughts in the comment section below!
Up next: Coach of the Year.
Photos courtesy of USA Today Sports Images.