Holding an impromptu press conference on Tuesday evening, Magic Johnson announced that he has stepped down as the Lakers' president of basketball operations (Twitter link via Bill Oram of The Athletic).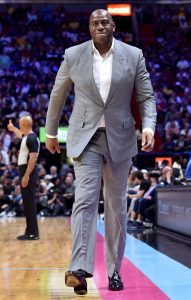 According to Johnson, he hadn't informed Lakers owner Jeanie Buss of his decision before publicly announcing his decision. Referring to Buss as a sister, Johnson said he "had more fun" when he was able to be "the big brother and the ambassador" rather than the Lakers' ultimate decision-maker (Twitter link via Oram).
"Somebody's going to have to tell my boss because I knew I couldn't be face-to-face and tell her," Johnson said, per Oram. "… I couldn't stand to tell her." 
The shocking announcement comes on the heels of a report from Oram which suggested that Johnson has been viewed as an "absentee executive." According to ESPN's Adrian Wojnarowski (via Twitter), Johnson never fully committed to the job and had limited office hours during his tenure. He was traveling and away from the team frequently, and didn't do much scouting, per Woj.
Speaking to reporters tonight, Johnson said that his position with the Lakers hasn't allowed him to be a statesman for the NBA, a role he enjoys and one he's looking forward to resuming (Twitter link via Dave McMenamin of ESPN.com).
Johnson also expressed frustration with the NBA's tampering rules and repeatedly said that he was happier before being hired by the assuming the role of Lakers head of basketball operations, adding that it's a "monkey off [his] back" to step away from the position (Twitter links via Oram and Brad Turner of The L.A. Times).
"I'm a free bird and I've been handcuffed, and I don't enjoy that," Johnson said (Twitter link via Mike Bresnahan of Spectrum SportsNet). Magic did add that he'd be interested in consulting for the Lakers on an as-needed basis.
Johnson's surprise resignation raises many more questions about the Lakers' upcoming offseason. There was a widespread belief that head coach Luke Walton would be let go at season's end, and while Johnson said tonight that his decision wasn't about Walton, he also acknowledged that it made him uncomfortable to be in a position to be in a position between Buss and Walton, who are close (Twitter link via Oram).
"[Buss] told me yesterday you have the power [to make the decision on Walton]," Johnson said tonight, according to Oram (Twitter link). "… I didn't want to put her or myself in that situation."
With Johnson no longer around to make that decision, it's not clear if Walton is now in position to keep his job or if Magic's replacement would still want to bring in his own head coach. The Lakers' coaching staff had believed for months that they'd be fired at the end of the season, Wojnarowski notes (via Twitter).
The Lakers are also facing a big summer in terms of roster decisions, with the team having targeted the 2019 offseason as the time to add a second star to complement LeBron James. Rob Pelinka remains in the role of GM for now, but it remains to be seen whether he'll be running the show during the coming months, or if the Lakers will look to hire a new decision-maker.
Asked for his opinion tonight on whether Pelinka and Walton should keep their jobs, Johnson declined comment, saying that's a decision for Buss to make (Twitter link via McMenamin).
During his two-plus years as the Lakers' president of basketball ops, Johnson made a handful of strong moves, including drafting players like Kyle Kuzma, Josh Hart, and Thomas Bryant — and, of course, signing LeBron. However, the team also made several questionable roster decisions, moving Lou Williams, D'Angelo Russell, and Ivica Zubac in a series of trades, and parting ways with players like Julius Randle, Brook Lopez, and Bryant.
Widely expected to be a playoff team in 2018/19, the Lakers failed to meet expectations and will finish well below .500, 10th in the Western Conference. While injuries were a factor, many of the club's 2018 free agent additions – including Michael Beasley and Lance Stephenson – weren't ideal fits, and the midseason Anthony Davis saga had a noticeable effect on the young players involved in trade rumors.
Photo courtesy of USA Today Sports Images.