6:07pm: The trade is official, according to a league press release.
2:55pm: The Trail Blazers and Hawks have agreed to a trade, according to ESPN's Adrian Wojnarowski, who reports (via Twitter) that the teams are swapping veterans Evan Turner and Kent Bazemore.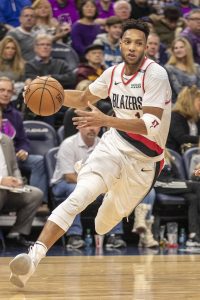 Turner and Bazemore signed nearly identical four-year, $70MM contracts during the summer of 2016, so both players will be on expiring deals during the 2019/20 season. Since Bazemore's contract was a little more backloaded, he'll be slightly more expensive next season, earning a salary of $19.27MM compared to Turner's $18.61MM.
For Portland, Bazemore will be a three-and-D piece who could help space the floor around the team's play-making guards. The veteran swingman struggled in 2018/19, battling some health issues and finishing with just 11.6 PPG on .402/.320/.726 shooting in 67 games (24.5 MPG). However, he has been a more reliable rotation player in the past, having made 36.5% of his three-pointers in his first four years in Atlanta, including 39.4% in 2017/18.
Bazemore should be a good fit on a Trail Blazers roster that could use another three-point marksman on the wing. In the postseason, Damian Lillard, CJ McCollum, and Meyers Leonard were fairly reliable from outside, but the only wings making threes for Portland were Seth Curry and Rodney Hood — both players are free agents this summer.
Turner, on the other hand, has never been much of an outside threat, but can be a secondary play-maker, having taken on a good deal of ball-handling responsibilities on the Trail Blazers' second unit last season. He averaged 6.8 PPG, 4.5 RPG, and 3.9 APG on .460/.212/.708 shooting in 73 games (22.0 MPG).
The Blazers believe that 2018 first-rounder Anfernee Simons can take on a bigger play-making role off the bench next season, tweets David Aldridge of The Athletic.
With sharpshooter Allen Crabbe arriving in a trade with Brooklyn, Atlanta views Turner's skill set as more of a fit than Bazemore's on this year's roster. The Hawks envision Turner in the backup point guard role and want to open up some minutes for young players like De'Andre Hunter, Cam Reddish, and Kevin Huerter as well, tweets Chris Kirschner of The Athletic.
The Blazers and Hawks won't have to wait until the new league year begins to consummate this deal, since Turner's and Bazemore's cap charges are so similar.
Photo courtesy of USA Today Sports Images.