JUNE 21, 11:49am: Whiteside has officially exercised his 2019/20 player option, tweets ESPN's Adrian Wojnarowski.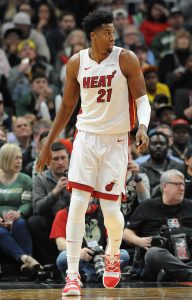 JUNE 21, 12:04am: Heat president Pat Riley confirms that Whiteside will opt in, adding that the center hasn't requested a trade and he expects Whiteside to be on the team, tweets Barry Jackson of The Miami Herald.
JUNE 18, 4:21pm: There's a growing belief that if and when Whiteside opts in, he may do so while asking for a trade, tweets Tim Reynolds of The Associated Press. Given his $27MM+ salary, it won't be easy for the Heat to make a deal.
JUNE 18, 11:24am: Barring an unforeseen development in the coming days, Heat center Hassan Whiteside intends to opt into the final season of his contract, exercising his 2019/20 player option, a league source tells Barry Jackson of The Miami Herald.
Picking up that option will make Whiteside the Heat's highest-paid player for next season, locking in a salary of $27,093,018, per Basketball Insiders. The veteran big man will subsequently be on track to reach unrestricted free agency during the summer of 2020.
Whiteside, who turned 30 years old last Thursday, averaged 12.3 PPG and 11.3 RPG with 1.9 BPG in 72 games (53 starts) for the Heat last season. While his numbers were solid, Whiteside's 23.3 minutes per game represented his lowest mark since he arrived in Miami in 2014.
Whiteside hasn't been thrilled about his reduced role and inconsistent minutes over the last two seasons. Still, despite expressing a little dissatisfaction with his playing time, he was always considered a virtual lock to exercise his player option to stick with the Heat — he'd have no chance of matching his $27MM salary for '19/20 on the open market.
With option salaries for both Whiteside and Goran Dragic on their books for next season, the Heat's guaranteed salary commitments will increase to nearly $130MM for just eight players, plus a $3.64MM cap hold for their first-round pick. The team figures to thoroughly explore ways to cut costs during the offseason to avoid ending up in tax territory with a roster that missed the playoffs this past season.
As our player option decision tracker shows, 10 players have already opted in for the 2019/20 season, with Whiteside and Dwight Powell (Mavericks) both planning to do so as well.
Here are a few more brief Heat notes:
According to Jackson, the Heat and Grizzlies discussed a possible Mike Conley trade, but didn't see eye to eye on compensation and those talks went nowhere.
Jimmy Butler has told confidants that he'd be happy to meet with the Heat in free agency if the team wants to make a pitch, tweets Tim Reynolds of The Associated Press. Miami doesn't project to have any cap room available this offseason though, so the idea of Butler joining the team is an extreme long shot.
University of Miami prospect Dewan Hernandez cancelled a workout with the Heat due to scheduling issues and an overcrowded workout calendar, writes Jackson.