A Warriors star suffered a major injury for a second straight game on Thursday night, according to ESPN's Adrian Wojnarowski (Twitter link), who hears from agent Greg Lawrence that Klay Thompson has been diagnosed with a torn ACL in his left knee.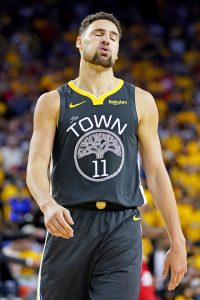 It's a brutal turn of events for Thompson and the Warriors, who saw Kevin Durant go down in Game 5 on Monday with a ruptured right Achilles. Like Durant, Thompson had been dealing with another injury in the same leg, having missed Game 3 due to a hamstring issue. However, there's no indication that the ACL injury was related.
Thompson suffered the injury during the third quarter of Thursday's game when he was fouled by Danny Green as he attempted to score on a fast break. Klay landed awkwardly on his left leg and had to be helped off the court, only to jog back onto the floor a moment later to knock down his two free throws. After making those free throws, he was removed from the game and was unable to return, eventually leaving the arena on crutches.
Despite being sidelined for Game 3, Thompson may have been the Warriors' most valuable overall player in the NBA Finals. He played a significant role on the defensive end guarding Kawhi Leonard and was also Golden State's most efficient scorer, knocking down an impressive 54.1% of his shots in the series, including a scorching 58.5% mark (24-for-41) from beyond the arc.
Thompson and Durant had been on track to be two of the biggest prizes in free agency this summer before these injuries took their offseasons in entirely new directions. Unlike Durant, Thompson doesn't have a player option for 2019/20, so he'll definitely reach the open market on June 30, while KD's decision remains up in the air.
[RELATED: Opting In Considered A "Last Resort" For Durant]
Thompson has long been viewed as a virtual lock to re-sign with the Warriors, and there's no reason to think that won't still be the case. However, his injury will create a fascinating dilemma for the Western Conference champions. If the club brings back both Thompson and Durant, it would result in a massive luxury-tax bill for a roster featuring two stars who will miss most or all of the 2019/20 season.
As Anthony Slater of The Athletic observes (via Twitter), ACL recoveries typically take at least eight months, so Thompson appears likely to be on the shelf until at least the All-Star break next season, though it's too soon to count on a specific timeline.
[RELATED: The Impact Of A Torn ACL On An NBA Player]
If the Warriors plan on heading into the 2019/20 season with one or two injured stars, it could impact how other Western teams approach the coming offseason. Rival contenders may be a little more aggressive if they sense that Golden State won't be quite the same threat that the club has been over the last five years.
Photo courtesy of USA Today Sports Images.