A year ago, many of the NBA's top free agents decided to sign short-term contracts in order to reach the open market again in 2019.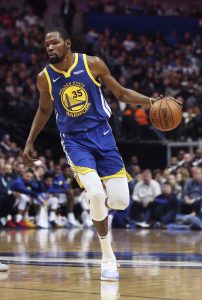 As we noted last August, seven of the 15 players on our list of top 50 free agents of 2018 signed one-year contracts or two-year deals with options. All seven of those players, led by Kevin Durant, found themselves in search of new contracts this summer, with many of them opting for longer-term deals this time around.
By contrast, all 15 players in our list of 2019's top 50 NBA free agents signed multiyear contracts this summer. Unless they're unexpectedly released in a year, none of those players will hit the open market again in 2020.
Kawhi Leonard will have the ability to become a free agent again in 2021, since his new three-year contract with the Clippers has a third-year player option. However, the rest of this year's top 15 free agents all signed four- or five-year contracts and won't be free agents again before 2022.
It's an interesting change in direction for top free agents after we'd become accustomed to superstars like Durant and LeBron James going year to year in order to maximize either their earnings, their flexibility, or both. A "one-plus-one" contract (a two-year deal with a second-year option) could have been a viable option for several stars this summer, but no top free agents chose to go that route.
In total, as our tracker shows, 20 NBA free agents signed long-term (four- or five-year) contracts this offseason. That figure doesn't include Jalen Lecque, an undrafted free agent who signed a four-year deal with the Suns, since Lecque wasn't a veteran free agent and his agreement more closely resembles a rookie contract. Our list also doesn't include Nikola Mirotic, whose new three-plus-one deal is with Barcelona rather than an NBA franchise.
Still, that leaves 20 veteran NBA free agents who signed for four or five years this summer, a major jump from 2018, when just 11 players signed those long-term deals.
Here's the full list:
Photo courtesy of USA Today Sports Images.