The NBA's new league year is set to begin on Sunday night, and this year's free agent period should be a fun one. Several big-market teams have enough cap room for one or more stars, and as cap expert Keith Smith notes (via Twitter), the 2019 free agent class projects to be the biggest in NBA history in terms of total players hitting the market.
Listed below are our top 50 free agents for the 2019/20 NBA season. The players on this list are on track to become free agents tonight, though they won't be able to officially finalize new deals until July 6.

Our rankings take into account both a player's short-term and long-term value. If we were to consider solely a player's worth for the 2019/20 season, a veteran like J.J. Redick would likely place higher, while younger free agents with upside, such as Terry Rozier, might be ranked a little lower.
Our top-50 list is a tag-team effort, with Clark Crum's rankings incorporated along with my own.
In addition to the players listed below, there are plenty of other notable free agents available this summer. You can check out our breakdowns of free agents by position/type and by team for the full picture.
Here are our top 50 free agents of 2019:
---
1. Kawhi Leonard, F, Raptors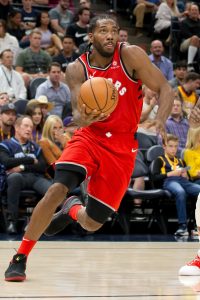 In rampaging through the Magic, Sixers, Bucks, and Warriors en route to an NBA championship, Leonard made a strong case for the title of Best Player in the World. He'll get as much money and as many years as league rules allow from any team he wants to join. Leonard's suitors include the Raptors, Lakers, Clippers, and Knicks.
2. Kevin Durant, F, Warriors
Leonard's prime competitor for that Best Player in the World title, Durant earns the second spot on this list despite being in the very early stages of the recovery process from a torn Achilles. Even though he'll miss the entire 2019/20 season, he still has a chance to get the biggest free agent contract of the summer if he returns to the Warriors on a five-year, $221.6MM deal. He's also expected to consider the Clippers, Nets, and Knicks, with his decision set to come tonight.

3. Kyrie Irving, G, Celtics
It was a tumultuous year in Boston, and there are questions about Irving's attitude and locker-room influence, but it's hard to deny his on-court production (23.8 PPG, 6.9 APG, .487/.401/.873 shooting). Irving is considered very likely to sign a four-year, maximum-salary deal with the Nets.
4. Jimmy Butler, G/F, Sixers
After taking a back seat to his star teammates at times in Philadelphia, Butler showed in the Eastern Semifinals against the Raptors why he's considered a max-salary player in his own right. Butler was the Sixers' most consistent player in those seven games, going toe-to-toe with Kawhi Leonard and helping push Toronto to the limit in the toughest series of their title run. The Rockets and Heat are both pursuing sign-and-trade possibilities with Butler.
5. Klay Thompson, G, Warriors
Like his teammate Durant, Thompson won't be healthy to start the 2019/20 season after suffering a major leg injury in the NBA Finals. And as is the case with Durant, a major injury doesn't really diminish Thompson's value. Despite his torn ACL, he's expected to reach a five-year, maximum-salary deal with the Warriors.

6. Kemba Walker, G, Hornets
Walker was eligible for a super-max deal worth $221MM+ from the Hornets, but Charlotte reportedly wasn't willing to go that high. After eight years with the franchise, the three-time All-Star looks ready to walk, as he's on track to sign a four-year, maximum-salary contract with the Celtics.
7. Khris Middleton, G/F, Bucks
Middleton earned his first All-Star nod in 2019 and has emerged as one of the league's most effective two-way wings in recent years. Over the last two years, he has averaged 19.2 PPG while knocking down 36.9% of his threes and playing strong perimeter defense. A lucrative new five-year deal with the Bucks appears likely for Middleton.
8. Kristaps Porzingis, F/C, Mavericks (RFA)
Investing big money in Porzingis will be a risk. He hasn't appeared in an NBA game since before the 2018 All-Star break due to his torn ACL, and a sexual assault allegation against him has yet to be resolved. However, the Mavericks reportedly believe in his talent – and his innocence – enough to offer him a five-year, maximum-salary deal.
9. Tobias Harris, F, Sixers
While Butler improved his stock in the Sixers' final playoff series, Harris saw his take a bit of a hit, as he struggled to make the open shots he was given vs. Toronto. Still, the 76ers and other NBA teams know what Harris is capable of, and his skill set as a scoring combo forward is a coveted one. If he doesn't get a maximum-salary offer, he'll get something very close to it.
10. D'Angelo Russell, G, Nets (RFA)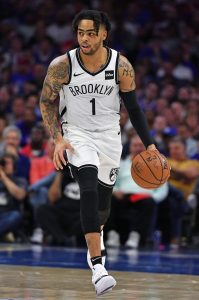 After Caris LeVert went down with a foot injury, Russell seized control of the Nets' offense and it led to a breakout performance, including his first All-Star berth. At age 23, he still has room to get better, and with Porzingis considered a lock to return to Dallas, D-Lo figures to be the most attractive restricted free agent left on the market. The Lakers and Timberwolves are among his suitors, with L.A. hoping the Nets renounce him and Minnesota perhaps hoping they don't (in order to accommodate a sign-and-trade).
11. Nikola Vucevic, C, Magic
After years of toiling away in Orlando for a mediocre Magic team, Vucevic – and the Magic – took a major step forward in 2018/19. The veteran center put up 20.8 PPG and 12.0 RPG en route to an All-Star spot, and his Magic finally made it back to the postseason. The two sides appear set to continue their relationship, with rumors swirling about a four-year, $100MM agreement.
12. Al Horford, C, Celtics
I thought Horford might end up just picking up his $30MM option to stick with the Celtics. Instead, he's hitting the open market and is reportedly in line for a four-year offer that could exceed $100MM in total value. We still don't know which mystery team will land Horford – the Mavericks, Sixers, Kings, Pelicans, Clippers, and even the Celtics have been mentioned as possibilities – but the perennially underrated big man appears to be set for one last big payday.
13. Malcolm Brogdon, G, Bucks (RFA)
Brogdon's foot issues may make potential suitors wary, but the potential of acquiring a guard who can post a 50/40/90 shooting line and play strong perimeter defense will probably outweigh those concerns. Brogdon's tiny cap hold ($3MM) will give the Bucks flexibility to re-sign him, but they're believed to have a walk-away number if he receives a huge offer sheet.
14. Harrison Barnes, F, Kings
After cashing in during the NBA's infamous summer of 2016 with a four-year, maximum-salary deal, Barnes is poised to do so again in 2019. He has reportedly lined up a four-year contract with the Kings worth about $88-90MM. As surprising as those numbers may look, Barnes' size, versatility, and outside shooting (39.5% on threes last season) make him a very valuable asset — and he's still just 27 years old.

15. Bojan Bogdanovic, F, Pacers
Bogdanovic's shooting is his calling card, but he's not a bad defender either, and he showed after Victor Oladipo's quad injury last season that he's even capable of carrying a team's play-making load in a pinch. The Pacers will try to bring him back, but he's drawing interest from the Jazz and it wouldn't be surprising to see a couple other teams kick the tires.
16. DeMarcus Cousins, C, Warriors
After an Achilles injury, a quad injury, and an up-and-down regular season and postseason, it's hard to get a read on Cousins' value. He's still very capable of filling the box score, and his passing makes him a tremendous offensive weapon even when his explosiveness isn't there. But his combative personality, defensive inconsistencies, and injury history may scare some teams away.
17. Julius Randle, F/C, Pelicans
Like Cousins, Randle isn't exactly considered an All-Defensive caliber player, but he continues to improve as a scorer, even adding a three-point shot to his game in 2018/19 (0.9 per game at a 34.4% rate) en route to 21.4 PPG. He'll make an attractive target for teams with cap room that miss out on their No. 1 options.
18. Brook Lopez, C, Bucks
Lopez's one-year, $3.38MM deal with Milwaukee was perhaps the biggest steal of 2018's free agent period. He won't come that cheap this time around. Having established himself as a legitimate three-point threat on offense and a capable rim protector on defense, Lopez will reportedly sign a four-year, $52MM deal to return to the Bucks.
19. Terrence Ross, G/F, Magic
Teams who are in search of a three-and-D swingman but can't afford a maximum-salary player will likely have Ross at or near the top of their wish lists. The 28-year-old put up 15.1 PPG in just 26.5 minutes per game as Orlando's sixth man in 2018/19, knocking down 38.3% of his attempts from beyond the arc while jacking up 7.0 per game.
20. Terry Rozier, G, Celtics (RFA)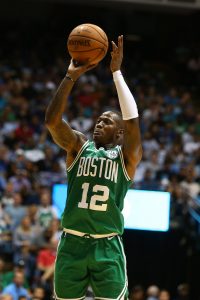 Rozier never found his groove in 2018/19 as he returned to a bench role behind Kyrie Irving. However, his 2018 postseason performance (16.5 PPG, 5.7 APG, 5.3 RPG) continues to tantalize teams who view the 25-year-old as a long-term starter. The Knicks and Hornets have been linked to Rozier most frequently, though it would likely require a complicated sign-and-trade deal to get him to Charlotte.
21. Jonas Valanciunas, C, Grizzlies
Valanciunas was posting huge per-minute numbers in Toronto early in 2018/19, but played limited minutes behind Serge Ibaka. Once he was sent to Memphis in February's Marc Gasol trade, Valanciunas took on a larger role and continued to produce, to the tune of 19.9 PPG, 10.7 RPG, and 1.6 BPG. He's reportedly set to return to the Grizzlies on a three-year deal worth an estimated $45MM.
22. Marcus Morris, F, Celtics
As Markieff battled injuries last season, Marcus emerged as the Morris twin more likely to secure a big payday this summer. Nikola Mirotic's decision to head back to Spain may improve Morris' market, since it took one of the offseason's top stretch fours off the market.
23. Bobby Portis, F, Wizards (RFA)
Like Morris, Portis continues to improve his three-point shot and should enter the summer as one of the most intriguing stretch fours available. He has reportedly drawn interest from the Jazz, Knicks, Lakers, Clippers, Bucks, and Magic, and is said to be seeking upwards of $16MM per year. The Wizards are unlikely to match an offer sheet in that range.

24. Ricky Rubio, G, Jazz
Rubio's inconsistent outside shot limits his overall value, but there are few point guards available this summer who better combine play-making, passing, and defense. The Spaniard is expected to commit to the Pacers once free agency officially begins.
25. Patrick Beverley, G, Clippers
I'll be interested to see the final numbers on Rubio's deal vs. Beverley's. Beverley isn't the play-maker or passer that Rubio is, but based on his defensive intensity and his reliable three-point shot (39.4% over the last four seasons), you could make a case that Beverley is a better fit for many teams. He's reportedly seeking $40MM on a three-year contract, with the Lakers, Mavericks, Bulls, and Kings among the clubs with interest.
26. Kelly Oubre, F, Suns (RFA)
27. J.J. Redick, G, Sixers
28. Danny Green, G, Raptors
29. Jeremy Lamb, G, Hornets
30. Thaddeus Young, F, Pacers
Oubre thrived in 40 games in Phoenix, posting a career-best 16.9 as a Sun, and he's only 23 years old. Even at age 35, Redick is a one-man floor stretcher whose shooting will make him a desirable target. Green isn't as consistent a shooter, but he's a better defender than Redick. Lamb emerged as the second-most reliable scorer in Charlotte last season with a career-high 15.3 PPG. As for Young, he's one of the NBA's most versatile defenders among power forwards.
31. Al-Farouq Aminu, F, Trail Blazers

32. Rodney Hood, G/F, Trail Blazers
33. Tomas Satoransky, G, Wizards (RFA)
34. Willie Cauley-Stein, C, Kings (RFA)
35. Kevon Looney, F/C, Warriors

Aminu has been an overlooked part of the Blazers' success in recent years, but he's a strong rebounder and defender. Hood's stint in Portland helped rebuild his value, as he proved he could be a capable rotation player for a conference finalist.
The markets for Satoransky and Cauley-Stein could go either way depending on whether there's one team that really likes them. They're both capable of starting. As for Looney, his numbers are unremarkable, but his ability to switch onto perimeter players on defense makes him an intriguing target for teams seeking frontcourt depth.
36. Rudy Gay, F, Spurs
37. Dewayne Dedmon, C, Hawks
38. DeAndre Jordan, C, Knicks
39. Trevor Ariza, F, Wizards
40. Enes Kanter, C, Trail Blazers
Gay's three-point shot was better than ever in 2018/19 (40.2%), and if teams believe that success is sustainable, he'll do very well on the open market. Of the three centers in this group, Dedmon is probably the most well-rounded, but Jordan should appeal to a team seeking rebounding and rim protection, while Kanter's scoring and rebounding ability provides value. It will be interesting to see whether Ariza prioritizes contending teams this summer after spending last season with the Suns and Wizards.
41. Jabari Parker, F, Wizards
42. Tyus Jones, G, Timberwolves (RFA)
43. Thomas Bryant, C, Wizards (RFA)
44. JaMychal Green, F, Clippers
45. Kentavious Caldwell-Pope, G, Lakers
46. Ivica Zubac, C, Clippers (RFA)
47. Seth Curry, G, Trail Blazers
48. Wayne Ellington, G, Pistons
49. Reggie Bullock, G, Lakers
50. Derrick Rose, G, Timberwolves
These players can all reliable NBA rotation players, but at this point in the list, we're looking mostly at non-starters. Jones and Green are my favorite potential targets in this group. Jones, who averaged a career-high 4.8 APG last season, is highly regarded by advanced metrics, as ESPN's Kevin Pelton recently noted. Green, who knocked down 40.3% of his three-pointers last season, is an underrated stretch four.
Here are 20 more free agents we considered:
Note: Derrick Favors isn't included on this list since it's not clear yet whether the Jazz will waive him. He also wouldn't necessarily be a lock to clear waivers.

Photos courtesy of USA Today Sports Images.