JULY 1: The Warriors will send a future protected first-round pick to the Nets as part of the deal to help incentivize them to acquire Durant via sign-and-trade, tweets Wojnarowski.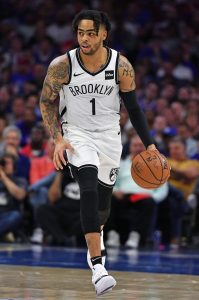 JUNE 30: The Warriors are trading for D'Angelo Russell, Treveon Graham, and Shabazz Napier from the Nets, Shams Charania of The Athletic reports (Twitter link). The move would be made via sign-and-trade in exchange for Kevin Durant.
Russell will receive a four-year, $117MM maximum salary contract, according to Adrian Wojnarowski of ESPN.com reports (Twitter link).
It was reported earlier today that the Warriors may have an interest in turning Durant's departure into a sign-and-trade with the Nets. If they hadn't taken back any salary in the deal, the Dubs could have created a $30MM trade exception. Instead, they'll land one of the top restricted free agents on the market.
Brooklyn replaced Russell with Kyrie Irving at the point guard position and the franchise was said to be open to helping Russell find a new home of his choosing, even if it meant committing to a sign-and-trade. The Nets wouldn't look to take salary back in most scenarios, but since they are getting Durant from Golden State, sending Russell there wouldn't hinder their ability to sign their new stars.
Russell was said to be eyeing a possible move to Minnesota to team up with his close friend Karl-Anthony Towns. Perhaps that was before a deal in Golden State seemed like a feasible option.
The Warriors must stay below the tax apron, which is set at approximately $138.9MM, to remain eligible to accept a sign-and-trade. Doing so with Russell and Klay Thompson receiving maximum-salary deals will be extremely difficult, so another move or two is likely coming for Golden State. As Wojnarowski tweets, Andre Iguodala may have to be moved. Shaun Livingston also appears unlikely to be back.
[UPDATE: Warriors trading Iguodala to Grizzlies]
With Thompson expected to miss most or all of the 2019/20 season with a torn ACL, Russell figures to share the backcourt with Stephen Curry next season in a revamped Warriors lineup. It will be fascinating to see if the club plans to move forward and build around all three guards long-term once Thompson is healthy.
Photo courtesy of USA Today Sports Images.