3:58pm: Agent Jeff Schwartz has confirmed that Cousins tore his left ACL, according to Wojnarowski (Twitter links). Cousins' camp and the Lakers are working on determining a timeline for the surgery and his recovery, Woj adds.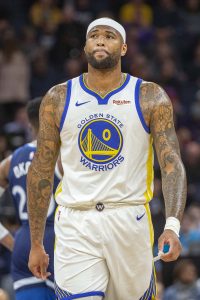 11:57am: Lakers center DeMarcus Cousins has suffered a torn ACL in his knee, reports Shams Charania of The Athletic (via Twitter). According to Charania (via Twitter), Cousins will undergo some final tests, but they're expected to confirm the diagnosis of a torn ACL.
As we noted earlier today when ESPN's Adrian Wojnarowski first reported that Cousins had sustained a possible knee injury, it's the latest piece of bad news in what has been a brutal two-year stretch for the four-time All-Star.
Cousins' 2017/18 season with the Pelicans came to an end when he tore his Achilles tendon. Then, after making it back from that injury for the Warriors in 2018/19, he suffered a torn quad at the start of the postseason. The torn ACL is the third major leg injury Cousins has sustained within the last 19 months.
Cousins' injury woes have significantly impacted his potential earnings. His torn Achilles occurred just months before he reached unrestricted free agency, costing him a chance at a maximum-salary contract. After settling for a one-year, $5.34MM contract with Golden State last season, he inked another one-year, make-good deal worth $3.5MM with the Lakers this summer.
If Cousins' torn ACL sidelines him for most or all of the 2019/20 campaign, another one-year contract seems likely next year as he prepares for his age-30 season. At this point, it seems extremely unlikely that he'll ever be able to recapture his old All-NBA form.
As for the Lakers, they'll need to lean more heavily on center JaVale McGee and may also ask Anthony Davis to play more minutes at the five than the four.
Los Angeles currently has 14 players on guaranteed contracts, so adding a center as a 15th man might also make some sense. We recently highlighted a few more of the more notable free agent big men still on the market, including Nene, Amir Johnson, Kenneth Faried, Marcin Gortat, and Joakim Noah.
Photo courtesy of USA Today Sports Images.