Dwight Howard is returning to the Lakers. According to Shams Charania of The Athletic (Twitter link), Howard and the Grizzlies are finalizing a buyout and the center will latch on with Los Angeles once that it complete.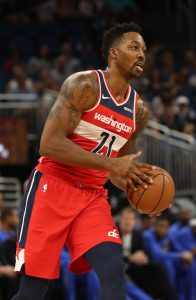 Howard had several meetings with the Lakers, according to Adrian Wojnarowski of ESPN.com (Twitter links). Howard came in after dropping 25 pounds and showcased his that back was healthy. Woj hears that the Lakers got the sense that Howard had hit "rock bottom" and it had humbled him. While the Lakers are signing the center, they are proceeding with caution, as the deal is non-guaranteed.
The team wants him to come in and serve in a rim protecting/rebounding role. Several Lakers players were involved in the decision to bring Howard to the club.
The Lakers considered several options to fill the void DeMarcus Cousins' injury created. Joakim Noah also worked out for L.A. and the franchise believes that Noah and Howard could each help the team.
Howard's deal will pay him the veteran's minimum, which will be worth approximately $2.6MM. Again, it's non-guaranteed.
Photo courtesy of USA Today Sports Images