3:39pm: The Hawks have formally issued a press release announcing that they've promoted Schlenk to president of basketball operations. The announcement doesn't mention an extension, but it seems safe to assume that it's official now too.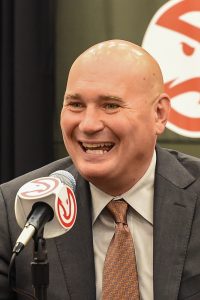 The Hawks also announced many more promotions and hires, including (but not limited to):
Dan Martinez to VP of team operations
Derek Pierce to VP of player personnel
Dotun Akinwale Jr. to director of scouting
Mike McNeive to director of player personnel
Daniel Starkman to senior manager of basketball operations
Nick Ressler to manager of basketball operations
"We are extremely pleased with the direction that Travis and our entire basketball operations team has us heading as a franchise," Hawks owner Tony Ressler said in a statement. "He has used the draft to build an impressive young core, hired one of the NBA's top young coaches in Lloyd Pierce and positioned us to have the cap space, draft picks and financial flexibility needed to have long-term success in the NBA."
2:39pm: The Hawks have reached a deal with general manager Travis Schlenk on a new multiyear contract extension, reports Zach Klein of WSB-TV (Twitter link). Confirming Klein's report, Chris Vivlamore of The Atlanta Journal-Constitution writes that an official announcement from the team will likely come within the next day or so.
Schlenk took over as Atlanta's head of basketball operations during the spring of 2017 after the team re-assigned GM Wes Wilcox and removed Mike Budenholzer's president of basketball operations title.
Since joining the Hawks, Schlenk has launched a full-fledged rebuild, accumulating draft assets and making strong use of his own first-round picks, having selected John Collins in 2017 and Trae Young and Kevin Huerter in 2018.
It remains to be seen whether this year's lottery picks (De'Andre Hunter and Cam Reddish) will look as promising as Collins, Young, and Huerter have, and Schlenk faced some criticism for trading the pick that became Luka Doncic. Still, the former Warriors executive has the Hawks pointed in the right direction as one of the NBA's up-and-coming teams.
After going 24-58 during Schlenk's first year running the show, the team won 29 games last season and will look to improve upon that number in 2019/20.
Photo courtesy of USA Today Sports Images.