AUGUST 26: The Nets have officially signed LeVert to an extension, the team announced today in a press release.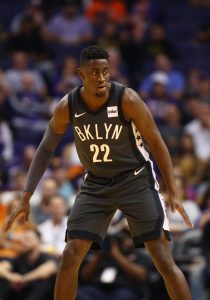 "Caris personifies what it means to be a Brooklyn Net, and we firmly believe his best basketball is in front of him," GM Sean Marks said in a statement. "The growth he has displayed in his first three seasons is a testament to his tireless work ethic, along with an unrelenting will to maximize his talents and achieve team success. Our entire organization is excited to continue to have Caris as one of the leaders of our program moving forward."
AUGUST 25: The Nets and guard Caris LeVert have agreed to a rookie scale extension, according to ESPN's Adrian Wojnarowski, who reports (via Twitter) that the new deal is worth $52.5MM over three years. It will go into effect during the 2020/21 season, once LeVert's rookie scale contract expires.
LeVert, who celebrated his 25th birthday on Sunday, was emerging as Brooklyn's go-to option at the start of the 2018/19 season, averaging 19.0 PPG, 4.2 RPG, and 3.7 APG in his first 13 games (30.7 MPG). However, a dislocated foot derailed his breakout season, forcing him out of action until February.
In his final 26 regular season contests, LeVert didn't show the same explosiveness or shooting touch, averaging just 11.2 PPG on .394/.312/.661 shooting in 24.9 minutes per contest. However, in the Nets' playoff series vs. the Sixers, he flashed that early-season form, scoring a team-high 21.0 PPG with a .493/.462/.724 shooting line in five games (28.8 MPG).
LeVert's new three-year, $52.5MM deal – which will have annual cap hits of $16.2MM, $17.5MM, and $18.8MM, per ESPN's Bobby Marks – is a fascinating deal for both sides. The Michigan alum has star upside, so the Nets may have themselves a steal by locking him up for a per-year salary of $17.5MM for three seasons in his prime.
On the other hand, as Marks observes (via Twitter), LeVert's career has been plagued by injuries dating back to his college days, and he has yet to play a full NBA season, so getting some long-term security likely appealed to him. Plus, by accepting a three-year extension, he'll be in position to become an unrestricted free agent in 2023 as he enters his age-29 season. Assuming he delivers on his potential, he could be in line for a bigger payday at that time.
It remains to be seen how LeVert's game will be impacted by the arrival of veterans like Kevin Durant, Kyrie Irving, and DeAndre Jordan, but the club clearly views him as one of its core players. Now that he has been locked up through the 2022/23 season, his contract is set to expire at the same time as those four-year deals (though Durant and Irving can opt out a year earlier).
With an eight-figure salary for Spencer Dinwiddie also on the books for next season, Brooklyn won't have any cap room to work with in the summer of 2020. That shouldn't be a problem — next year's free agent class is expected to be weak, and it lost another intriguing name with LeVert coming off the board.
LeVert is the third player to reach an agreement with his current team on a rookie scale extension this offseason, with Ben Simmons (Sixers) and Jamal Murray (Nuggets) having previously signed max deals. There are still 17 players eligible to sign rookie scale extensions, including Pascal Siakam, Buddy Hield, and Jaylen Brown, among others.
Photo courtesy of USA Today Sports Images.