Pelicans forward Darius Miller underwent surgery on Thursday morning to repair a ruptured right Achilles tendon, the team announced in a press release.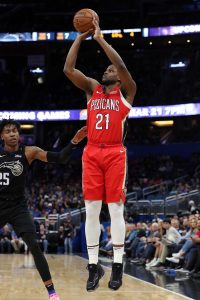 Although no recovery timetable was provided by the Pelicans, a torn Achilles typically sidelines an NBA player for at least a full season, so it seems unlikely that Miller will return to action for New Orleans in 2019/20.
ESPN's Malika Andrews suggests (via Twitter) that Miller will began rehab work next week and is expected to miss seven or eight months. Even if he can make it back in exactly seven months – which is probably an optimistic forecast – that would put his return date at the end of March.
The injury is a devastating blow for both the Pelicans and Miller, who has averaged 8.0 PPG on .417/.388/.826 shooting in 151 games since returning to New Orleans in the summer of 2017. His absence will put more pressure on newly-added sharpshooter J.J. Redick to stretch the floor.
Fortunately for Miller, he received a nice payday as a free agent this offseason, signing a two-year, $14.25MM deal with the Pels. He'll earn a $7.25MM salary in 2019/20, though his $7MM salary for 2020/21 is non-guaranteed and seems less likely to be picked up in the wake of today's news.
If the Pelicans believe Miller's injury will keep him out of action for the entire year, they could apply for a disabled player exception to sign a replacement. If approved, that exception would be worth $3.625MM, half of the 29-year-old's salary. While the DPE would create some added cap flexibility for New Orleans, it wouldn't allow the club to carry an extra player.
Photo courtesy of USA Today Sports Images.