NBA teams have now completed the brunt of their offseason work, with the draft and free agency practically distant memories. Still, with training camps more than a month away, many clubs around the league have at least one or two outstanding issues they've yet to address.
We're in the midst of looking at all 30 NBA teams, separating them by division and checking in on a key outstanding question that each club still needs to answer before the 2019/20 regular season begins.
After focusing on the Atlantic on Monday, we're moving onto the Southeast today. Let's dive in…
Atlanta Hawks
How will the Hawks use their remaining cap room?
The Hawks are the only NBA team that has any real cap room remaining. Currently, the team is sitting on about $6.95MM in space, per Early Bird Rights. That's not a ton of room, particularly when there are probably no free agents left on the market worth more than the minimum. But it could come in handy.
It's not clear if Atlanta has any plans in mind for that cap room, but the club is likely holding off on making Vince Carter's new deal official in order to maximize its options. Once Carter signs his minimum-salary contract, the Hawks' cap space will dip to approximately $5.33MM.
The most likely scenario for the Hawks is probably holding onto their cap room into the season and then seeing if it helps create any trade opportunities later in the year. Still, I wouldn't rule out the possibility of the team using that space to accommodate a deal before the season begins.
Charlotte Hornets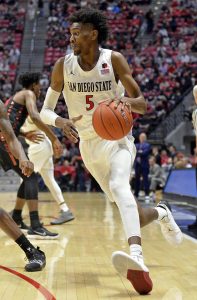 What are the Hornets' plans for second-round pick Jalen McDaniels?
McDaniels is one of four 2019 draft picks who has yet to sign an NBA contract or commit to playing overseas.
While it remains to be seen what the Hornets' plans are for McDaniels, a two-way contract is an outcome that would make sense for both sides. The three players selected before McDaniels (from Nos. 49-51) and after him (Nos. 53-55) in the draft all signed two-way deals, and Charlotte currently has a slot open.
Of course, the Hornets also project to have an opening or two on their 15-man regular season roster, so it's possible McDaniels and his reps have their eye on one of those spots. The club currently has 13 players on guaranteed contracts, with Thomas Welsh, Caleb Martin, Joe Chealey, and Josh Perkins among the non-guaranteed players possibly in the running for the 14th and/or 15th spot(s). We'll have to wait to see if McDaniels gets a chance to compete with them or if he gets Charlotte's second two-way deal.
Miami Heat
How will the Heat's hard cap affect their remaining roster decisions?
After signing Udonis Haslem earlier this month, the Heat are about $855K below their hard cap for the 2019/20 league year, according to ESPN's Bobby Marks (Twitter link). The minimum rookie salary for this season is $898K, so Miami can't add any more guaranteed salaries to its books without making a corresponding roster move to clear guaranteed money.
In other words, barring a trade or a last-minute use of the stretch provision, the Heat's roster is mostly set for the regular season. The team just needs to make a pair of roster decisions: Will Duncan Robinson and Kendrick Nunn fill out the 14-man roster?
Robinson's $1,416,852 salary is already guaranteed for $1MM, so waiving him would create little flexibility for Miami. Nunn's partial guarantee is only worth $150K though. If the club has any doubts about his ability to contribute in 2019/20, his roster spot could be in jeopardy. Waiving Nunn would open up enough room for the Heat to bring in another veteran on a minimum-salary deal.
Orlando Magic
When will the Magic sign Chuma Okeke?
As noted above, there are four 2019 draft picks who remain unsigned. Of those four, Okeke is the only unsigned first-round pick. Because the rookie scale for first-rounders is fairly inflexible, those players typically sign within the first week or two of the league year, so the delay on Okeke is unusual.
It's probably not a coincidence that Okeke is the only first-round pick who is unlikely to see the court much – if at all – during his rookie season. He tore his ACL in March and is still recovering from that injury.
While virtually every first-round pick signs for 120% of his rookie scale amount, the Cavaliers were able to get Kevin Porter for lower than that earlier in the offseason — it seems likely at this point that the Magic – who don't have much breathing room below the luxury tax line – are exploring something similar with Okeke.
Washington Wizards
Will Bradley Beal sign a contract extension?
Beal is eligible for a veteran extension, and the Wizards offered as many years and as much money as NBA rules allowed. They also did so as soon as league rules allowed. However, Beal didn't immediately accept that offer.
It's easy to point to the Wizards' 2018/19 record (32-50) and unfavorable cap situation and surmise that Beal is eager to leave D.C., but that's not necessarily the case. He has said he wants to assess the team's new management group, led by general manager Tommy Sheppard, before making any decisions. Plus, it would be financially advantageous for him to wait at least a year before signing a new extension, as we explained in-depth last month.
Beal has until October 21 to sign an extension. Otherwise, he won't be eligible again until next July. John Wall thinks his backcourt mate will accept Washington's offer and he might be right, but if I had to place a bet, I'd guess that Beal will enter the 2019/20 season without a new deal in place.
Photo courtesy of USA Today Sports Images.