12:11pm: Chandler has issued a statement in response to his suspension, as Wojnarowski relays: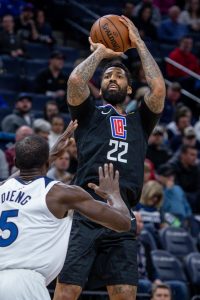 "During my injury rehab process, before I signed with the Nets, I was prescribed a treatment that included small doses of a substance recently added to the NBA's prohibited substance list. I did not realize this substance was banned, and neither did the doctor. I accept responsibility and apologize to my Nets teammates, coaches, front office, and fans for this mistake. I will continue to work hard to prepare for the upcoming season."
11:18am: The NBA has officially announced Chandler's suspension, revealing that he tested positive for Ipamorelin.
10:46am: Nets forward Wilson Chandler is facing a 25-game suspension after testing positive for PED use, league sources tells Adrian Wojnarowski of ESPN (Twitter link). According to Wojnarowski, an official announcement from the NBA confirming the suspension is expected to come later today.
Chandler, 32, signed a one-year, minimum-salary contract with Brooklyn last month after spending the 2018/19 season with the Sixers and Clippers. He averaged 6.0 PPG and 4.2 RPG with a .418/.373/.720 shooting line in 51 total games (23.1 MPG).
Chandler was viewed as a low-cost option who could give the Nets some decent minutes off the bench at the three and four, but a 25-game suspension will keep him out of the team's lineup for most of the first two months of the regular season. The 11-year veteran would be eligible to make his debut on December 15.
An NBA team can move a suspended player off its active roster following the fifth game of his ban, so the Nets would open up a roster spot to sign a temporary replacement for Chandler after November 1. Once Chandler is eligible to return, Brooklyn would have to trade or waive the replacement (or another player) to make room for the forward on its 15-man roster.
Suspensions longer than 20 games cost a player 1/110th of his salary per game. Chandler only counts for $1,620,564 against the Nets' cap in 2019/20 but is earning a salary of $2,564,753. That figure will be reduced to $1,981,855 as a result of his 25-game ban.
The NBA's policy on steroids and performance-enhancing drugs calls for a 25-game suspension for a first violation. If Chandler were to fail another PED test at a later date, his second suspension would be for 55 games.
Photo courtesy of USA Today Sports Images.