As we first relayed on Wednesday, the Rockets' new deal with Nene is an unusual one, structured to maximize his trade value. The two-year, $20MM contract has a $10MM cap hit for 2019/20, but only has a base value of approximately $2.56MM, an amount equivalent to the minimum salary for a 10-year veteran. The remaining $7.44MM on the deal is made up of "likely" incentives.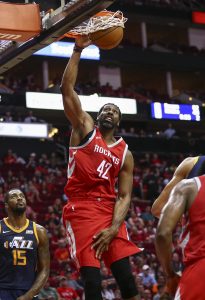 The NBA's Collective Bargaining Agreement dubs an incentive likely to be earned if the player met the criteria the year before, but that doesn't necessarily mean the player will actually meet the criteria again in the following season.
In fact, in Nene's case, the Rockets will probably try to ensure he doesn't meet that criteria, since the more guaranteed money the veteran center earns, the less trade value his contract has.
ESPN's Bobby Marks has the full details on Nene's incentives, which are as follows:
Base salary: $2,564,753
If Nene appears in at least 10 games and his team wins 52+ games: $2,435,247 bonus (cap hit increases to $5MM).
If Nene appears in at least 25 games and his team wins 52+ games: $2,500,000 bonus (cap hit increases to $7.5MM).
If Nene appears in at least 40 games and his team wins 52+ games: $2,500,000 bonus (cap hit increases to $10MM).
As Marks points out, all those incentives are considered likely because Nene played in 42 games last season and the Rockets had 53 wins. It seems safe to assume the 37-year-old won't appear in as many games this season as Houston attempts to limit his earnings.
However, there's another important detail worth noting here, as Jeff Siegel of Early Bird Rights outlines: If Nene were to be traded to a team that didn't win 52+ games in 2018/19 (ie. any team besides the Warriors, Nuggets, Trail Blazers, Bucks, or Raptors), his contract incentives would change to "unlikely" and would no longer count against his cap hit.
While it may seem as if that discrepancy would complicate Nene's trade market, it's actually a good thing for both the Rockets and their potential trade partners, as Siegel explains. In that trade scenario, the Rockets would still get to count Nene as $10MM in outgoing salary, while the other team would only consider him a $2.56MM incoming piece.
In other words, let's say the Rockets swapped Nene for another player with a $10MM cap hit. That'd be an even match for Houston, but the team acquiring the big man would technically be sending out a $10MM player for a $2.56MM player and could create a traded player exception worth $7.44MM.
The second year of Nene's contract is fully non-guaranteed, but would become partially guaranteed if he's kept under contract beyond February 15, 2020, just over a week after this season's trade deadline. So, whether or not the Rockets trade him, Nene may hit the buyout market in February.
For more details on how Nene's contract works, be sure to check out Marks' report and Siegel's analysis in full. If you still have questions, leave them in the comment section below.