The Magic have exercised their rookie scale team options for the 2020/21 season on a trio of young players, the team announced today in a press release. Orlando picked up its fourth-year options on Markelle Fultz and Jonathan Isaac, along with its third-year option on Mohamed Bamba.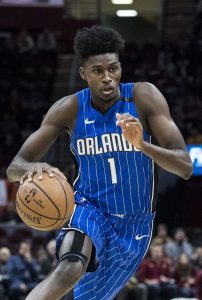 The decisions on Isaac and Bamba don't come as a surprise. Isaac had a promising sophomore season, averaging 9.6 PPG, 5.5 RPG, and 1.3 BPG while playing a key part in Orlando's second-half defensive surge. His cap hit for the 2020/21 season will be $7,362,566.
Bamba, meanwhile, didn't get a chance to play much in his rookie season after being selected sixth overall in the 2018 draft, as a tibia fracture sidelined him for most of the second half. However, third-year options are rarely turned down and Bamba's $5,969,040 cap charge for '20/21 is a very reasonable price as the Magic continue to see what they have in the young center.
The most notable decision here is the one on Fultz, whose fourth-year option is much pricier ($12,288,697) since he was the No. 1 overall pick in 2017. The young point guard still hasn't appeared in a single game for the Magic since being acquired in a deadline deal last February. However, exercising his option signals that the team likes the progress he has made in his recovery from thoracic outlet syndrome.
Fultz is now the only Magic point guard under contract beyond this season. D.J. Augustin is in the final year of his contract, while Michael Carter-Williams is on a one-year deal.
In total, the option decisions increase the Magic's projected 2020/21 team salary by over $25MM, reducing the team's chances of creating any cap room next summer. Orlando now has more than $101MM in guaranteed money on its books for '20/21, which doesn't include Evan Fournier's $17.15MM player option. The cap is projected to come in at $116MM.
Teams have until October 31 to exercise rookie scale team options for 2020/21. Our tracker can be found right here.
Photo courtesy of USA Today Sports Images.