4:44pm: Okeke will sign a G League contract to play for the Magic's affiliate in Lakeland, according to Charania and Josh Robbins of The Athletic.
9:41am: Chuma Okeke has long been the only 2019 first-round pick who has yet to sign his rookie scale contract, and now we know why. According to Shams Charania of The Athletic (via Twitter), Okeke won't sign his rookie deal with the Magic until the 2020 offseason.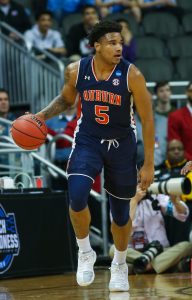 [RELATED: 2019 NBA Draft Pick Signings]
As Charania explains (via Twitter), the Magic intend to redshirt Okeke during his first professional season as he continue to recover from the ACL injury he suffered during this year's NCAA tournament while playing for Auburn.
Postponing Okeke's first NBA contract by a year could be a win-win for both Orlando and the young forward, who was the 16th overall pick in this year's draft. Although he won't earn an NBA salary in 2019/20, the 21-year-old projects to sign a rookie contract worth an extra $1MM or so in 2020 due to the rising value of the league's rookie scale, tweets ESPN's Bobby Marks.
When he signs in 2020, Okeke will earn the same salary as the 16th pick in the 2020 draft — the exact amount will depend on how much the cap increases, but based on the latest projection, his starting salary should be about $3.32MM.
Meanwhile, the Magic are currently just $3.8MM below the luxury tax line and would've been right up against that threshold if they'd signed Okeke to a rookie contract worth 120% of his rookie scale amount. He would've earned about $3.1MM in 2019/20 in that scenario. The franchise will now have him under control for an extra year as well, as his four-year rookie contract will run through the 2023/24 season. The rest of the 2019 first-rounders will hit restricted free agency during the summer of '23.
[RELATED: Rookie Scale Salaries For 2019 First Round Picks]
It's not clear whether Okeke will remain unsigned or if he'll sign a G League contract for the 2019/20 season. A G League contract might make sense for both sides, since it would allow him to rehab within the organization while at least earning a modest salary. In either scenario, the Magic will retain his NBA rights.
The move will also open up an extra spot on the Magic's 15-man regular season roster for the coming season. The team is currently carrying 13 players on fully guaranteed contracts, so there should be one one or two openings available heading into training camp.
Photo courtesy of USA Today Sports Images.