This offseason was not the first time Derrick Favors had been traded. He came to the Jazz halfway through his rookie season via the Deron Williams trade. However, the big man said his move to New Orleans this offseason was easier than his move to Utah back in 2011, as he tells Tony Jones of The Athletic.
"It's a difference of going from one city to another," Favors said. "It was a little harder when I got traded to the Jazz, because I was still a teenager and I didn't know much. Everything was new to me. It's a little easier now because I knew more what to expect, and I'm grown up and mature. It will take some getting used to, but I'm in a good place physically and mentally."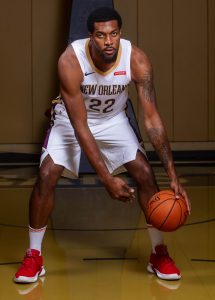 Favors became a cap casualty this offseason. The Jazz traded for Mike Conley and inked Bojan Bogdanovic to a four-year deal in free agency, which added a desperately needed scoring wing to the rotation. Those high-priced acquisitions forced the Jazz to shed salary, which made Favors – who is making $17.65MM this season – the cap casualty.
Despite having the opportunity to add Bogdanovic to their roster, some within the Jazz organization fought against jettisoning Favors, sources tell Jones. The Jazz valued Favors highly, though he's arguably best suited to play the five. With Rudy Gobert on the squad and the team adding new pieces around their All-NBA center, Favors would have been a high-priced luxury that the Jazz simply could not afford.
Favors will join Jrue Holiday and a team of young, up-and-comers with the Pelicans. He should see more minutes at the five in New Orleans than he has at any point his career. Favors has never played more than 62% of his minutes at the center position in any season, but it would be surprising if that number doesn't rise dramatically in 2019/20, since he should see the majority of his time alongside No. 1 overall pick Zion Williamson.

On the court, Favors will provide a fundamentally-sound game for a team that has many raw parts. Off the court, he'll provide leadership for a team that features just two players with more NBA experience than him (Holiday and J.J. Redick).
"It's a new challenge and a new start," Favors said told Jones. "I have no choice but to embrace it."
Photo courtesy of USA Today Sports Images