For certain NBA teams, the path to finalizing their regular season roster is obvious. The Mavericks, for instance, are currently carrying 15 players with guaranteed salaries and two on two-way contracts. Barring a major surprise in the next couple weeks, those 17 players will open the regular season under contract with the team, while the remaining three players on non-guaranteed camp deals may end up in the G League with the Texas Legends.
In other NBA cities though, the regular season roster isn't quite so clear cut. A number of clubs haven't filled their two-way contract slots and/or don't have 15 players with guaranteed salaries, leaving the door open for camp invitees to compete for those final roster spots.
We don't know exactly what all these teams are thinking — some may have already made their decisions, or at least could have a good idea which way they're leaning. But here are five teams that appear to have roster spots up for grabs and are worth watching during training camp and the preseason:
Cleveland Cavaliers
Fully guaranteed salaries: 13
Two-way slots open: 1
It looks like at least two roster spots are up for grabs in Cleveland — one on the standard roster and one two-way slot. That number could increase to three if the Cavaliers decide to carry a 15th man to open the season, though their proximity to the tax line may discourage them from doing so. An intriguing mix of rookies and young veterans are in the running for those openings, and none have partial guarantees that would give them a leg up.
Contenders: Marques Bolden, Daniel Hamilton, Timothe Luwawu-Cabarrot, J.P. Macura, Jarell Martin (ineligible for two-way), Sindarius Thornwell
Detroit Pistons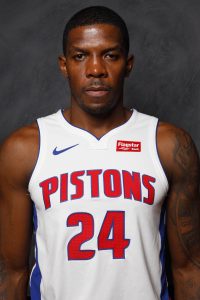 Fully guaranteed salaries: 14
Two-way slots open: 0
There's only one spot available on the Pistons' roster, but the battle for it is an interesting one. In one corner is 17-year veteran Joe Johnson, who has appeared in nearly 1,400 total regular season and playoff games, and has a $220K partial guarantee. He's going up against young forward Christian Wood, who just turned 24 and is already on his fifth NBA team. Wood flashed promise during his end-of-season stint with the Pelicans in the spring, averaging 16.9 PPG and 7.9 RPG in eight games (23.6 MPG), but beating out Johnson will be a tall order.
Contenders: Johnson, Wood
Orlando Magic
Fully guaranteed salaries: 13
Two-way slots open: 0
The Magic don't have a ton of flexibility below the tax threshold, so they may not carry a 15th man to start the season, but they have to carry at least 14. The five non-guaranteed camp invitees that appear for now to be in the running for that 14th spot have appeared in a combined total of 12 regular season NBA games, so it will be interesting to see if Orlando looks to bring in a veteran or goes with a rookie.
Contenders: Hassani Gravett, Isaac Humphries, DaQuan Jeffries, B.J. Johnson, Vic Law
Toronto Raptors
Fully guaranteed salaries: 12
Two-way slots open: 2
Unlike last season, the Raptors don't have any pressing luxury-tax concerns, so they could carry a full roster, which would leave five spots up for grabs in the preseason. Returning players Chris Boucher and Malcolm Miller each have partial guarantees and look like viable candidates for roster spots. But second-round pick Dewan Hernandez and free agent signees Cameron Payne and Isaiah Taylor also have partial guarantees and strong cases for a place on the 15-man squad. It will be interesting to see which way Toronto goes.
Contenders: Boucher (ineligible for two-way), Oshae Brissett, Dewan Hernandez (ineligible for two-way), Sagaba Konate, Miller (ineligible for two-way), Payne (ineligible for two-way), Devin Robinson, Taylor
Washington Wizards
Fully guaranteed salaries: 13
Two-way slots open: 1
The Wizards' injury woes may complicate their roster decisions and could make them more likely to carry 15 players on their standard roster instead of just 14. The partial guarantees for Jordan McRae, Justin Robinson, and Jemerrio Jones put them in the best position to claim those open roster spots. Meanwhile, only two of the team's camp invitees are eligible for two-way deals, so that may be a one-on-one competition.
Contenders: Justin Anderson (ineligible for two-way), Phil Booth, Chris Chiozza, Jones (ineligible for two-way), McRae (ineligible for two-way), Robinson (ineligible for two-way)
Photo courtesy of USA Today Sports Images.