Of the five oldest players on NBA rosters during the 2018/19 season, only one announced his retirement this year, as Mavericks legend Dirk Nowitzki decided to call it a career. Nowitzki was the second-oldest player in the NBA last season, but the rest of the league's elder statesmen – including 42-year-old Vince Carter – have opted to keep playing in 2019/20.
As a result, many of the names on our list of the league's oldest players for the 2019/20 season are the same as the ones that made our list a year ago.
Here's the full list of the 10 oldest players currently on NBA rosters, led by Carter: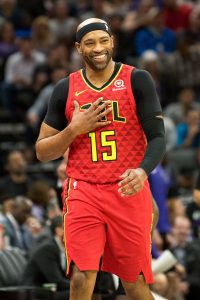 As expected, there's much more turnover on the other end of the spectrum, as all 10 of the youngest players on NBA rosters just entered the league this year. In fact, all but one of those 10 players were selected in the 2019 draft, which doesn't come as a real surprise.
A number of young undrafted free agents have gone right from college to an NBA roster within the last few months, but the youngest of this year's rookies are the ones who left school after their freshman years — and many of those freshman early entrants were strong enough prospects to be drafted.

A year ago, the NBA's youngest player was Isaac Bonga, who was born on November 8, 1999. This year, for the first time, the league's youngest players are all born in the year 2000.
Here are the 10 youngest players currently on NBA rosters:
Photo courtesy of USA Today Sports Images.