OCTOBER 14: The signing is official, per the NBA.com transacations log.
OCTOBER 7: The 2019/20 season won't be a contract year for Kyle Lowry after all, according to ESPN's Adrian Wojnarowski, who hears from agent Mark Bartelstein that the Raptors and their starting point guard have agreed to a one-year contract extension worth $31MM.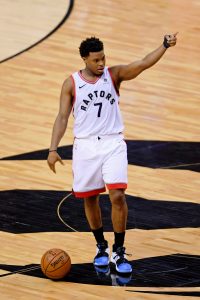 The extension will lock up Lowry through the 2020/21 season, putting him on track for unrestricted free agency in the summer of 2021 and taking another top player off the 2020 market. As a result of the deal, Lowry will no longer be part of the group of Raptors who enter the season on pricey expiring contracts, though Marc Gasol, Serge Ibaka, and Fred VanVleet still fit that bill.
Lowry publicly expressed his desire for an extension in early August at Team USA's pre-World Cup camp, and according to Wojnarowski, the Raptors' brass – including president of basketball operations Masai Ujiri and GM Bobby Webster – has been motivated for months to get a deal done. The new extension should be a win-win for the two sides — Lowry gets one last big payday, while Toronto retains its cap flexibility for the '21 offseason, when several stars are projected to reach free agency.
"We are so appreciative of how Masai and Bobby handled every aspect of this negotiation," Bartelstein told Wojnarowski. "Once again, they displayed how they look after their players in a first-class manner, especially someone like Kyle who they recognize has such a legacy with the franchise."
Lowry, who has made the Eastern Conference All-Star team for five consecutive seasons, scored a modest 14.2 PPG in 2018/19, but averaged a career-high 8.7 APG and had some big games during the Raptors' championship run. In addition to doing the little things on defense (he led all players in the postseason in charges drawn and loose balls recovered), the 33-year-old also memorably opened Game 6 of the NBA Finals by scoring Toronto's first 11 points.
While Lowry's cap charge for 2019/20 is about $35MM, he may not actually earn quite that much, since he has $1.7MM in likely bonuses tied to individual and team accomplishments. If the Raptors don't make the Eastern Conference Finals and Lowry doesn't earn a spot on the All-Star team, his cap hit would be reduced to approximately $33.3MM at season's end.
Lowry will still have the opportunity to earn some or all of those incentives in the newly-added year of his contract, according to ESPN's Bobby Marks, who notes (via Twitter) that the usual six-month trade restriction won't apply to the veteran. Lowry's new deal doesn't exceed the limits of an extend-and-trade, since it's just for one year and doesn't feature a raise. Still, unless things really go south in Toronto this season, it seems unlikely the Raptors will consider trading the Villanova alum within the next six months.
As for the effect of Lowry's new deal on Toronto's 2020 cap space, the club still has a good amount of flexibility, though a lucrative extension for Pascal Siakam by the October 21 deadline would all but eliminate that flexibility. Guaranteed 2020/21 salaries for Norman Powell, OG Anunoby, Patrick McCaw, and Lowry add up to approximately $50MM, with cap holds for Siakam and VanVleet pushing that number up to about $75MM. The NBA's latest projection calls for a $116MM cap in '20/21.
Photo courtesy of USA Today Sports Images.