It sounds like Zion Williamson's much-anticipated NBA regular season debut won't happen until at least December.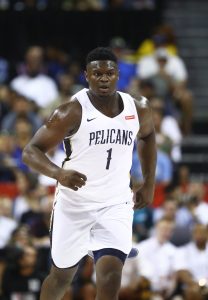 According to a press release issued today by the Pelicans, the No. 1 overall pick underwent arthroscopic surgery to address a torn right lateral meniscus. Williamson is expected to be ready to return in approximately six to eight weeks, per the team.
It's a tough blow for the Pelicans, for Williamson, and for the NBA, which scheduled New Orleans for several nationally televised games in the first few weeks of the season, including Tuesday night's opener in Toronto. Of course, it's also bad news for NBA fans, since the former Duke forward is entering the league as one of most exciting rookies of this century.
If Williamson were to miss exactly six weeks, he'd be out for New Orleans' first 20 games and would be on track to return on December 3 against the Mavericks. An additional two-week absence would cost him at least seven more games, and it wouldn't be a surprise if the Pelicans lean toward that option, since they'll treat his recovery with an abundance of caution, as we heard last week.
With the star rookie on the shelf, the Pelicans could use some combination of Brandon Ingram, Nicolo Melli, and Kenrich Williams to fill the available minutes at the four. The Pelicans' depth at forward will be tested early, as sharpshooter Darius Miller is out for the season with a torn Achilles.
Photo courtesy of USA Today Sports Images.