Following a blowout 108-87 loss to the Cavaliers on Sunday, Knicks president of basketball operations Steve Mills and general manager Scott Perry held an unscheduled press conference to address the team's early-season struggles. New York is off to a 2-8 start in 2019/20 despite making a series of veteran free agent additions aimed at helping the club compete for a playoff spot.
"Given that this is our 10th game, we felt like we had an obligation to come and speak to you guys," Mills told reporters, including Ian Begley of SNY.tv. "Obviously, Scott and I are not happy with where we are right now. We think the team's not performing to the level that we anticipated or we expected to perform at and that's something that we think we have to collectively do a better job of delivering the product on the floor that we said we would do at the start of this season."
Mills added that he and Perry still believe in the Knicks' plan, their roster, and the coaching staff, but reiterated that the results so far have been disappointing. According to Mills, the Knicks' top execs felt as if it was important to communicate that dissatisfaction to fans, stressing that they're "committed to making this better."
As Stefan Bondy of The New York Daily News observes, the timing of the impromptu press conference appeared to be related to a halftime meeting involving Mills, Perry, and team owner James Dolan. A source tells Bondy that Dolan expressed his disappointment during that meeting, while Frank Isola of The Athletic hears Mills and Perry were ordered by Dolan to address the media after the game.
"Jim still believes in the plan that we put together, but he's passionate as we are about this," Mills said after the game, per Begley. "So he would want us to have better results on the floor as well, but I think Jim is a fan and believes in what we're doing. But he has the same expectations that we have and this is really about how we feel about what we should be doing, what we should be delivering as a group. We all take responsibility for that."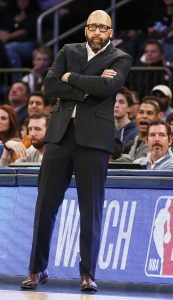 Based on Sunday's presser, it's fair to wonder just how hot head coach David Fizdale's seat is getting. Multiple sources told Begley that there's no indication that any head coaching change – or management change – is imminent, but those same sources said nothing has been ruled out with regard to in-season changes.
For his part, Fizdale claimed responsibility for the Knicks' struggles so far and admitted he's beginning to feel some urgency to start winning games, as Bondy relays. However, he also pointed out that there's plenty of time for New York to turn things around.
"A good friend of mine told me to never overreact to overreactors," Fizdale said, according to Steve Popper of Newsday. "We're two games from the eighth seed. The team that's in the eighth seed right now has four wins. So it's not that like, oh my God, everybody's acting like the world is coming to an end. It's not. We just have to find our consistency in our games so we can start playing better basketball."
Sean Deveney of Heavy.com writes that Fizdale has the support of several Knicks players, including RJ Barrett, which is one factor working in his favor. Marcus Morris and Bobby Portis were among those to publicly back their head coach on Sunday, according to Bondy.
"Fiz is a great guy, great coach. He's a frontline dude," Morris said. "He's always going to speak on it first but he's not coming out and giving up 20-point leads. At the end of the day, f–k the X's and O's. We have to come out and we have to be better."
Although a head coaching change is typically the first move made by a struggling team looking to shake things up, Mills and Perry shouldn't necessarily be considered safe either, Isola writes. As of last week, the plan was to give the Knicks' top executives at least the rest of the season to figure things out, but that's not set in stone, per Isola.
Several people familiar with the Knicks' thinking believe Dolan intends to take another run at Raptors president of basketball operations Masai Ujiri next year, according to Isola. It's safe to assume the Knicks would be willing to make it worth Ujiri's while financially if they pursue him, but the Wizards reportedly attempted a similar push in June and had no luck (they later denied having interest). There's also no guarantee that Ujiri would view working for Dolan as an upgrade on his current job.
Photo courtesy of USA Today Sports Images.