Players on two-way contracts are free to appear in NBA games, but there are limitations on the amount of time they can spend with their respective NBA teams. Each two-way player can spend up to 45 days with his NBA club, assuming he signed his two-way deal before the season began.
[RELATED: Hoops Rumors Glossary: Two-Way Contracts]
With some creative transferring back and forth between an NBA team and its G League affiliate, a franchise can make the most of those 45 days. Still, with the clock having started on October 28, the first day of G League training camp, it's just a matter of time before some players use up their 45-day allotment.
Teams can sign players to two-way contracts through mid-January, so in past seasons some clubs have simply moved onto a new player once their original two-way players neared that 45-day limit. However, many players who have used up their 45 days subsequently received a promotion – signing a standard NBA contract and taking a spot on the 15-man roster – to ensure that their teams didn't lose them.
It's a little early in the 2019/20 season to determine which two-way players will ultimately end up being promoted to 15-man rosters, but a handful of players on two-way deals have made strong cases for standard contracts in the early going.
Here are the top candidates to receive promotions among this year's two-way players:
Chris Silva, PF (Heat)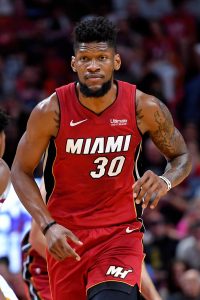 Silva has flown somewhat under the radar in Miami, since the Heat have two other rookies (Tyler Herro and Kendrick Nunn) making an even greater impact. But Silva has already appeared in 22 games for the NBA club, averaging 3.7 PPG, 3.9 RPG, and a .644 FG% in 9.7 minutes per contest.
Miami is hard-capped and can't sign Silva to a standard contract before January 14. Even at that point, it's not clear if getting him on the 15-man roster right away will be a top priority for the Heat, who may want to retain a modicum of flexibility leading up to the trade deadline. The club has a deep bench and could probably get by without him for a few weeks once he uses up his 45 NBA days, but it wouldn't be a shock to see Silva eventually sign a multiyear, minimum-salary deal like the one Nunn received last spring.
Chris Clemons, G (Rockets)
Although he has appeared in 17 games so far this season, Clemons isn't exactly a rotation fixture for the Rockets, having played double-digit minutes in just five of those games. Still, in limited playing time, he has shown the ability to create instant offense off the bench, scoring at least 16 points three times and shooting 38.8% on threes.
After waiving Ryan Anderson earlier this fall, Houston has an open spot on its 15-man roster, but the team's proximity to the tax line may work against a promotion for Clemons in the near future. We'll see if the club can trade Nene within the next couple months, or if it needs to keep that final roster open for a potential addition on the trade market or buyout market.
Ky Bowman, PG (Warriors)
Damion Lee, SG (Warriors)
No player on the 5-21 Warriors this season has a positive net rating, but Lee (-2.9) is the closest and Bowman (-4.4) isn't far behind.
Bowman has been especially impressive, stepping into the starting lineup several times when D'Angelo Russell missed time and posting a .454/.415/.909 shooting line through 26 games. Lee, who has appeared in just 12 games, hasn't been as reliable from beyond the arc this year (31.6%) as he was last year (39.7%), but he had some productive nights early in the season, including a 23-point, 11-rebound showing in a win over New Orleans.
Like the Heat, the Warriors are hard-capped, limiting their ability to add anyone to their 15-man roster right now, despite having an open spot. But if they were to trade, say, Alec Burks without taking any salary back, the Dubs would be in position to promote a two-way player to their roster, potentially signing him to a team-friendly three- or four-year deal with their mid-level exception. In that scenario, Bowman would almost certainly be the priority over Lee.
The full list of players on two-way contracts can be found right here.
Photo courtesy of USA Today Sports Images.