January 15 was the last day that NBA teams were permitted to sign players to two-way contracts this season. As such, the next time we see a two-way deal finalized will be this summer when the 2020/21 league year begins.
With that in mind, it's worth checking in on where things stand with the current two-way players around the NBA. Let's dive in…
All 60 two-way slots have been filled
For much of the season, the Suns only carried one two-way player. A handful of other teams also opened up two-way contract slots in recent weeks. However, all those openings have now been filled, as all 30 NBA teams are carrying a pair of players on two-way contracts. The full list can be found right here.
Of course, that doesn't mean that those 60 slots will stay filled all season long. A two-way player can still be waived, though there will be little incentive to do so after January 20, when all two-way salaries for the season become guaranteed. A player on a two-way contract can still be promoted to a 15-man roster too — he just can't be replaced with a new two-way player.
There are still players on two-way contracts who are candidates for standard deals
Some teams, including the Warriors (Damion Lee), Heat (Chris Silva), and Nets (Timothe Luwawu-Cabarrot) added standout two-way players to their 15-man rosters via a standard contract or 10-day deal on Wednesday. That allowed those clubs to sign a replacement two-way player in advance of the January 15 deadline. But not every team with a two-way player in its rotation took that approach.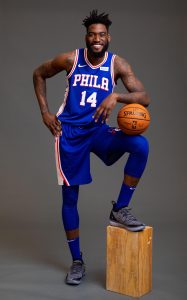 The Sixers, for instance, opted not to convert Norvel Pelle's two-way contract to a standard deal on Wednesday, preferring to prioritize roster flexibility as the trade deadline approaches, as Kyle Neubeck of PhillyVoice.com tweets.
Pelle only has a handful of days left on his 45-day NBA limit and head coach Brett Brown suggested the team plans to play him until he hits that limit (Twitter link via ESPN's Tim Bontemps). At that point, Pelle will have to remain in the G League until the regular season ends or he receives a promotion to the 15-man roster.
Brandon Goodwin (Hawks), Ky Bowman (Warriors), Garrison Mathews (Wizards), Oshae Brissett (Raptors), and Kelan Martin (Timberwolves) are some of the other candidates to be moved to standard contracts before the season ends.
The league's newest two-way players will get to spend up to 42 days in the NBA — sort of
As noted above, two-way players are generally limited to spending 45 days with their NBA clubs after the G League season begins and before it ends. However, players who sign two-way deals during the season get a prorated portion of those 45 days, depending on when they sign.
Guys like Marquese Chriss (Warriors), Jeremiah Martin (Nets), Ray Spalding (Hornets), and Paul Watson (Raptors), who finalized their two-way agreements on Wednesday, did so with 92 days left in the 177-day NBA season. As a result, they'll get to spend up to 24 days (92/177ths of 45 days, rounded up to the nearest whole number) with their NBA teams before the G League regular season ends on March 28.
Once the NBAGL regular season is over, those players will no longer face NBA restrictions and can subsequently spend the season's last 18 days (from March 29 to April 15) in the NBA.
So, in total, players like Chriss and the rest will be able to spend 42 days in the NBA if they remain on their two-way contracts for the rest of the season. They'll just be limited to 24 days until the G League season concludes.
Not all two-way players will be free agents at season's end
Based on reports this week, Kenny Wooten (Knicks) and Matt Mooney (Cavaliers) signed two-way contracts that span two years and won't expire until the summer of 2021.
Those two-year deals are very team-friendly, since they give players limited leverage in the event they outperform their two-way contracts. But Wooten and Mooney aren't the only players whose two-way pacts will run through next season. Bol Bol (Nuggets), Marial Shayok (Sixers), Kyle Guy (Kings), Amir Coffey (Clippers), and Devontae Cacok (Lakers) are also on two-year contracts.
Of the NBA's 60 current two-way players, then, up to 53 have the opportunity to reach unrestricted or restricted free agency by this summer. Those seven players listed above, however, may still occupy two-way slots in 2020/21 without getting the chance to test the market.
Photo courtesy of USA Today Sports Images.