Some players on the Clippers are not thrilled with the team's preferential treatment to Kawhi Leonard and Paul George, sources tell Jovan Buha and Sam Amick of The Athletic. This sort of handling is common in the NBA nowadays. Stars play by different rules, however, that doesn't mean things are always smooth behind the scenes.
Look across the Staples Center to LeBron James to see another example of stars getting different treatment. James frequently sets the Lakers' practice and shootaround schedules, coordinating with coach Frank Vogel as they try to figure out what works best for the team. Yet, LBJ's situation is generally accepted by teammates because of his leadership style; he has an ability to inspire and connect with his teammates in a way that facilitates it.
Leonard and George have different personalities. Leonard is a lead-by-example type and with George having the same approach, there's a bit of uncertainty about whose voice should be the loudest.
"I think it boils down to Kawhi not talking, and so who is their true leader?" one source with knowledge of the Clippers' dynamics said. "How do you get around that?"
---
After a loss to the Grizzlies earlier this month, Montrezl Harrell was particularly vocal about the team's performance, telling the media that the Clippers were "not a great team" while explaining that the club needed to "wake up and figure it out." Harrell was asked about the vibe in the locker room and the center's response was noteworthy.
"I don't know, brother," Harrell said at the time. "I don't know. And that might be another problem right there."
Doc Rivers addressed Harrell's comments and Buha and Amick hear that tension had been rising in the locker room leading up to those remarks. The big man's words also rubbed some teammates the wrong way as they felt Harrell's post-game mood was, at times, reliant on his individual box score.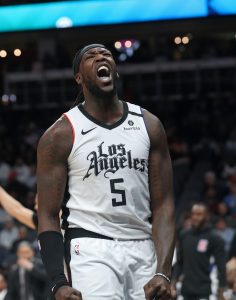 Harrell is in a contract year and could be in line for a major raise in free agency. However, sources tell The Athletic duo that the 25-year-old remains focused on the team's goal of winning a championship over any sort of personal agenda.
"Everything he does is out of his passion for winning," one source said. "He kind of walks to his own beat a little bit, but it's not from a selfish perspective at all."
Buha and Amick spoke to over a dozen sources and the entire piece is worth a read. Here are more highlights from the duo's latest:
Multiple Clippers players don't feel the team practices as hard or as seriously as it should be. Leonard's load management plays a role in that.
The Clippers prefer to call the strategy with Leonard "injury management." Los Angeles' medical team still doesn't consider Leonard a fully healthy player and maintains that Leonard should not play back-to-backs.
Leonard has become more vocal recently. He's coordinated player-only film sessions that many around the team believe have been a key to the Clippers' recent surge in the standings. "It wasn't one of those crazy players-only meetings, but they started doing it two or three games ago," Rivers said earlier this month. "They just felt like watching the game together instead of everybody watching their iPads, watching it alone, would be better."
The team's success over the next week or so (which includes games against the Heat and Lakers) could determine what Los Angeles does at the trade deadline. Many players and team employees feel the dynamics have improved and the team has begun to jell over the past few weeks.
Buha and Amick write that Leonard most frequently speaks with George, Patrick Beverley, Lou Williams, and Maurice Harkless. The pair notes that Leonard is not standoffish to others, but has grown the most comfortable with that group.
As a reminder, both Kawhi and PG can hit the free agent market in the summer of 2021, as each player's deal contains a player option for the following season.