Lou Williams is retiring from basketball after 17 years in the NBA, making the announcement Sunday morning in a YouTube video. The 36-year-old guard scored the most points off the bench by anyone in league history, and he's a three-time winner of the Sixth Man of the Year award.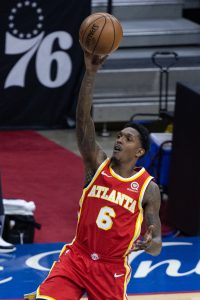 Williams last played for the Hawks during the 2021/22 season, averaging 6.3 PPG in 56 games, all as a reserve. He spent the past year as a free agent after his contract expired.
Williams was selected out of high school by the Sixers with the 45th pick in the 2005 draft. He made his first stop in Atlanta in 2012, signing there as a free agent, and was traded to the Raptors two years later. He signed with the Lakers in 2015 and was traded twice in 2017, first to the Rockets and then to the Clippers.
He had his most productive seasons with the Clippers, averaging 22.6 points per game in 2017/18 and 20.0 PPG in 2018/19 and capturing Sixth Man honors both times. Williams' other Sixth Man award came in 2015 with Toronto. L.A. sent him back to Atlanta in a 2021 deal.
Williams embraced the role of bench scorer early in his career and defined it as well as anyone ever has. He never made more than 38 starts in a season, but his scoring average hit double figures for 14 straight seasons. He appeared in 1,123 games with six teams, averaging 13.9 PPG throughout his career and shooting 35.1% from three-point range.