JANUARY 21: The trade between the Kings and Trail Blazers is now official, according to press releases issued by both teams.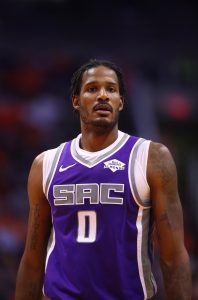 JANUARY 18: The Kings and Trail Blazers have agreed to a trade that will send Kent Bazemore and Anthony Tolliver to Sacramento in exchange for Trevor Ariza, Wenyen Gabriel, and Caleb Swanigan, reports ESPN's Adrian Wojnarowski (via Twitter). Shams Charania of The Athletic first reported (via Twitter) that the Blazers are trading Bazemore to Sacramento.
The Kings will also receive Portland's second-round picks in 2024 and 2025 as part of the deal, a source tells Sam Amick of The Athletic (Twitter link). ESPN's Bobby Marks notes (via Twitter) that the swap can't be officially completed until Tuesday, when Gabriel's trade restriction lifts.
For Portland, the deal represents a cost-cutting move that shouldn't impact the team's on-court performance too drastically, if at all. Both Ariza and Bazemore have had down years so far, but Bazemore's drop-off has been more precipitous —  he has posted a career-worst .347 FG% to go along with a .327 3PT%. Ariza is at least still knocking down his threes (.352 3PT%) at his usual career rate, even as his role was reduced in Sacramento.
Tolliver had been a rotation player for the Blazers, with 16.8 minutes per game in 33 contests, but hasn't been at his best either — his .368 FG% is his worst mark since he was a rookie in 2008/09.
Bazemore and Tolliver are earning a combined $20.89MM, compared to a total of $15.68MM for Ariza, Swanigan, and Gabriel. Besides trimming more than $5MM off the Blazers' team salary, the deal will also reduce the organization's projected tax bill by $12.6MM, according to Marks (via Twitter).
Additionally, the Blazers will create a pair of traded player exceptions, including one worth just over $7MM, since they have a disabled player exception available to acquire Swanigan. The team will have the opportunity to keep Ariza for the 2020/21 season if he finishes the year strong. His $12.8MM salary for '20/21 is partially guaranteed for $1.8MM, per Basketball Insiders.
It's not clear if Swanigan and Gabriel fit into Portland's plans, though it's worth noting Swanigan was originally drafted by the Blazers before being traded to the Kings a year ago. Both players are on expiring contracts. Portland won't need to cut anyone to make room to accommodate the three incoming players, since the club already had an open roster spot.
As for the Kings' side of the deal, Amick observes (via Twitter) that it opens up a roster spot immediately and also creates slightly more flexibility moving forward, since Bazemore and Tolliver are on expiring contracts. The Ariza signing hadn't worked out like the franchise had hoped, so Sacramento will hope that Bazemore can bounce back and that Tolliver looks more he did when he was a member of the Kings in 2016/17 and shot .442/.391/.744.
There are no plans to buy out Bazemore, according to Chris Haynes of Yahoo Sports, who tweets that the veteran swingman has a "great relationship" with head coach Luke Walton and the Kings' front office.
Even if the Kings' new additions keep slumping, the team will come away with a pair of future assets in the trade by picking up the Blazers' 2024 and 2025 second-round picks. Sacramento had already acquired multiple extra second-rounders for 2020 and 2021, so the team is building up quite a stash of draft picks, which could be useful in future deals.
Photo courtesy of USA Today Sports Images.