Bogdan Bogdanovic has been considered a potential trade target for contenders this winter, but the Kings are unlikely to move the third-year swingman, a league source tells James Ham of NBC Sports California.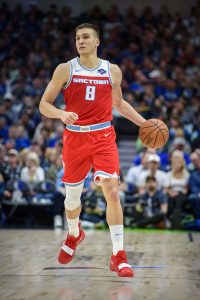 Bogdanovic, 27, has battled injuries this season but is still averaging a career-best 14.3 PPG to go along with 3.6 APG and a .376 3PT%. There has been speculation that the Kings may look to move him before the February 6 trade deadline, since he'll be a restricted free agent in July and the team has already committed big-money, long-term contracts to Harrison Barnes and Buddy Hield. Pricey new extensions for De'Aaron Fox and Marvin Bagley could be on tap during the next two years as well.
The Lakers and Kings reportedly discussed a deal involving Bogdanovic and Kyle Kuzma, but those talks didn't go anywhere. Earlier today, Jon Johnson of WIP tweeted that Bogdanovic was one of two trade targets the Sixers are focusing on, along with Robert Covington.
However, all season long, reports have suggested that the Kings aren't looking to trade Bogdanovic, and today's update confirms as much. As Ham explains, Sacramento recognizes what kind of player Bogdanovic is when he's healthy and knows how important he is to the franchise.
Barring a change of heart within the next couple weeks, the Kings would like to try to retain Bogdanovic and work out a long-term solution in the offseason, even though they know his value in restricted free agency could end up being in the range of $15-18MM per year, Ham writes.
The Kings reportedly offered Bogdanovic a four-year, $51MM+ extension in the fall, which is the most they can offer prior to free agency. The team will be able to increase its offer in July. A sign-and-trade would also be a viable possibility during the summer — six RFAs were signed-and-trade during the 2019 offseason.
Photo courtesy of USA Today Sports Images.