Lakers legend Kobe Bryant died in a helicopter crash on Sunday morning in Calabasas, California, according to a report from TMZ. ESPN's Adrian Wojnarowski (via Twitter) is among those who have confirmed the report.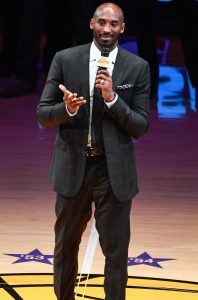 Bryant and eight other people are dead after his private helicopter crashed and caught fire on a hillside in the Calabasas area, according to Los Angeles County Sheriff Alex Villanueva (Twitter link). Initial reports from TMZ and others had indicated that Bryant was one of just five people on board, but Villanueva confirmed there were eight passengers, plus the pilot.
Kobe's wife Vanessa Bryant wasn't among the passengers on the helicopter, according to TMZ. However, reps for Bryant tell TMZ Sports that his 13-year-old daughter Gianna Maria Onore was also on board and died in the crash.
TMZ's report suggests that the helicopter was on the way to the Mamba Academy in Thousand Oaks for a basketball practice, while Wojnarowki reports that it was en route to a travel basketball game. According to Wojnarowski (via Twitter), another player and parent were also on board.
It's a shocking and devastating development for the NBA community. Bryant, who was just 41 years old, is considered one of the league's greatest players of all-time and is only four years removed from appearing in his final All-Star Game. Although Bryant was a Laker for his entire career, he's connected in various ways to a number of franchises around the NBA, as Anthony Slater of The Athletic observes (via Twitter).
Many of today's stars also grew up idolizing Kobe, a five-time NBA champion who earned 15 All-NBA nods, 18 All-Star berths, 12 All-Defensive honors, a pair of scoring titles, and is the league's fourth all-time leading scorer, averaging 25.0 PPG in 1,346 career regular season games. Both of the uniform numbers he wore for the Lakers – Nos. 8 and 24 – have been retired by the franchise.
Following his retirement in 2016, Bryant hosted offseason camps for current NBA players, most recently in the summer of 2019. Besides stars like Kawhi Leonard, Paul George, and Kyrie Irving, young players such as Jamal Murray, John Collins, and Aaron Gordon participated in those camps.
News of Bryant's death comes less than 24 hours after LeBron James passed him in all-time points. Bryant's last tweet, published on Saturday, lauded James for "continuing to move the game forward." LeBron, meanwhile, was effusive in his praise for Bryant this week.
"It's another guy that I looked up to when I was in grade school and high school," LeBron said, per ESPN. "Seeing him come straight out of high school, he is someone that I used as inspiration. It was like, wow. Seeing a kid, 17 years old, come into the NBA and trying to make an impact on a franchise, I used it as motivation. He helped me before he even knew of me because of what he was able to do. So, just to be able to, at this point of my career, to share the same jersey that he wore, be with this historical franchise and just represent the purple and gold, it's very humbling and it's dope.
"Kobe's a legend, that's for damn sure."
We at Hoops Rumors send our condolences to Bryant's family and friends.
Photo courtesy of USA Today Sports Images.