Pacers guard Victor Oladipo is aiming to return to action on January 29 when Indiana hosts the Bulls, he tells Shams Charania of Stadium (video link).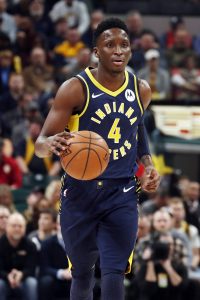 "That can change, that might not change, who knows," Oladipo said. "But it's definitely good to have something to look forward to, especially after 12 months of wondering and hoping and not being sure and 12 months of the unknown."
Oladipo hasn't played in an NBA game since January 23, 2019, when he suffered a torn quad tendon. An ESPN report last month suggested that the 27-year-old was aiming to make it back onto the court in late January or early February, so his new target date lines up with that timeline.
While the Pacers will be thrilled to have Oladipo back in their lineup, they've played well without him this season, led by the likes of Malcolm Brogdon and Domantas Sabonis.
Currently, Indiana is 23-14, good for sixth in the Eastern Conference. The five teams between No. 2 and No. 6 in the East are separated by just 3.5 games, so the Pacers remain very much in the hunt for a top-four seed. Their playoff push should be buoyed by Oladipo's return, though he may need some time to shake off the rust.
Before going down with his quad injury, the veteran guard had been named an All-Star in each of his first two seasons in Indiana. He has averaged 21.7 PPG, 5.3 RPG, 4.6 APG, and 2.1 SPG on .461/.362/.780 shooting in 111 games since joining the Pacers in a blockbuster 2017 trade.
Photo courtesy of USA Today Sports Images.