Pacers wing Jeremy Lamb, who left Sunday's game in Toronto with a knee injury, has been diagnosed with a torn left ACL, a torn meniscus, and a lateral femoral condylar fracture, the team announced today in a press release. Lamb will undergo surgery and will miss the rest of the 2019/20 season.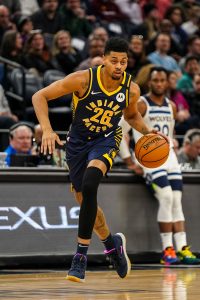 The injury occurred when Lamb went up for a dunk attempt in the second quarter. Raptors guard Terence Davis met him at the rim in an attempt to block the shot and Lamb landed awkwardly on his left leg. After the game, he referred to the play as a "freak accident" (Twitter link via Scott Agness of The Athletic).
The diagnosis is a devastating blow for the Pacers and for Lamb, who had been playing a key role for the team in his first season in Indiana. In 46 games (42 starts), the 27-year-old averaged 12.5 PPG and 4.3 RPG with a .451/.335/.836 shooting line in 28.1 minutes per contest.
The Pacers do have Victor Oladipo back in their lineup now, and Oladipo figures to play many of the minutes that belonged to Lamb during the first half of the season. Justin Holiday, Aaron Holiday, T.J. McConnell, and even Edmond Sumner are among the other players who could be relied upon more heavily with Lamb no longer an option.
Given the serious nature of Lamb's injury, he's unlikely to be ready for the start of the 2020/21 season. Although the Pacers haven't offered a recovery timeline beyond ruling him out for this season, they'll likely play it safe with the veteran swingman, who is under contract with the team through 2021/22. I'd be surprised if we see him back in Indiana's lineup before 2021.
The Pacers aren't eligible to apply for a disabled player exception to replace Lamb this season, since the deadline to apply for a DPE was January 15.
Photo courtesy of USA Today Sports Images.