Freshman Georgia guard and potential top pick Anthony Edwards is entering the 2020 NBA draft class, he tells Evan Daniels of 247Sports. Edwards – who has signed with Octagon agent Omar Wilkes for representation, according to Daniels – said that he believes he should be the No. 1 selection this year.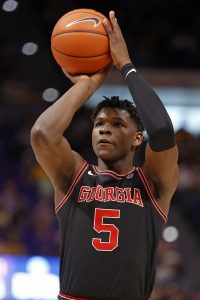 "I think I should go number one, no doubt," Edwards told 247Sports. "That's the only place I think I should go."
While it remains to be seen whether the NBA team that gets the No. 1 pick will agree with Edwards' assessment, the 6'5″ guard is widely viewed by draft experts as the top player on the board. Edwards currently ranks first on ESPN's big board, and topped the most recent mock draft published by Sam Vecenie of The Athletic.
"I think he has to be a realistic option for No. 1," an NBA scout told Daniels. "He has size and strength for position with ability to make shots and create for others. He's shown glimpses defensively and can impact both sides of the ball. The potential is there to be a future superstar."
In his scouting report on Edwards, ESPN's Mike Schmitz praised the 18-year-old's explosiveness, defensive potential, and ability to create shots, while noting that his decision-making is "a work in progress," he can be undisciplined on defense, and he's a streaky perimeter shooter.
In his first and only college season, Edwards averaged 19.1 PPG, 5.2 RPG, 2.8 APG, and 1.3 SPG in 32 games (33.0 MPG). He knocked down just 29.4% of his three-point attempts, despite averaging 7.7 attempts per game.
Photo courtesy of USA Today Sports Images.