Trail Blazers center Jusuf Nurkic intends to make his return to the court on March 15 against Houston, according to Chris Haynes of Yahoo Sports (via Twitter). Nurkic will be making his comeback nearly a year after suffering the devastating leg injuries that sidelined him for the end of the 2018/19 season and most of the 2019/20 campaign.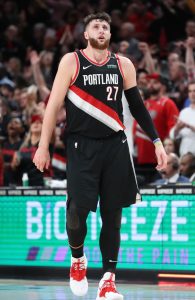 "I'm ready to help my team make the playoffs," Nurkic told Haynes. "It's time."
Nurkic suffered compound fractures in his left tibia and fibula on March 25, 2019 against Brooklyn and has been working his way back since then. The Blazers never offered a concrete timeline for when he might return, but reports earlier in the season suggested it might happen around the All-Star break.
Although Nurkic didn't hit that unofficial target, having reportedly strained his calf when he returned to practice in January, he remains on track to make it back well before the end of the regular season. Last week, the big man talked about needing more practice time to get up to speed — it sounds like that will happen before next Sunday.
A March 15 return would line up Nurkic to play in some or all of Portland's remaining 15 games, though it remains to be seen how big a role he'll have. In his conversation with Haynes, he acknowledged that getting used to the speed of NBA games will be a challenge after his year-long layoff.
"I'm not going to be playing 40 minutes," Nurkic said. "But for me, mentally, I need to get these reps in before I can play (extended minutes). Physically, I'm good. I had a calf strain recently, which is normal for the injury I had. I've been pleased with where my rehab is going. I never doubted I'd be back, but I had to make sure I was 100 percent. I can't wait for (March 15)."
Nurkic was having the best season of his NBA career in 2018/19 before the injury, averaging 15.6 PPG, 10.4 RPG, 3.2 APG, and 1.4 BPG in 72 games (27.4 MPG). This year, Hassan Whiteside has taken over starting center duties for the Blazers and leads the league with 3.1 BPG. Nurkic's comments to Haynes suggest he's willing to take a back seat to Whiteside in the season's final month if it helps the team win.
"He's my teammate," Nurkic said. "I don't know the plans going forward, but my mind is on how I'm going to help this team make the playoffs. We just need to sacrifice our games for the team's good, do the little things that don't show on the stat sheet and put our games together for possibly the playoffs. We have a chance, and when you have a chance, you've got to go get it."
Photo courtesy of USA Today Sports Images.