Hoops Rumors is looking ahead at the 2020/21 salary cap situations for all 30 NBA teams. Due to the coronavirus pandemic and its impact on the NBA calendar, it's impossible to know yet where the cap for 2020/21 will land. Given the league's lost revenue, we're assuming for now that it will stay the same as the '19/20 cap, but it's entirely possible it will end up higher or lower than that.

While one former No. 1 overall pick with a history of health issues (Derrick Rose) was a pleasant surprise for the Pistons in 2019/20, another (Blake Griffin) was limited to 18 ineffective games, which helped torpedo Detroit's season.
After years of middle-of-the-pack finishes, the Pistons accepted that a rise to contention wasn't around the corner and launched a full-scale rebuild, trading longtime center Andre Drummond, buying out veterans like Reggie Jackson and Markieff Morris, and focusing on player development. That focus figures to extend to next season and beyond, and since the Pistons' roster isn't exactly loaded with young talent, the rebuild will likely be a multiyear process.
Here's where things stand for the Pistons financially in 2020/21, as we launch our Salary Cap Preview series:
Guaranteed Salary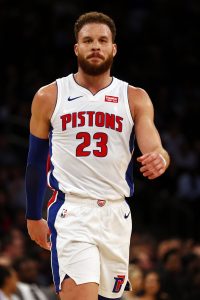 Blake Griffin ($36,810,996)
Derrick Rose ($7,682,926)
Luke Kennard ($5,273,826)
Sekou Doumbouya ($3,449,400)
Khyri Thomas ($744,684) — Partial guarantee. Non-guaranteed portion noted below. 1
Total: $53,961,832

Player Options
Team Options
Non-Guaranteed Salary
Restricted Free Agents
Thon Maker ($4,642,800 qualifying offer / $10,708,929 cap hold): Bird rights
Jordan Bone (two-way qualifying offer / $1,445,697 cap hold): Non-Bird rights
Louis King (two-way qualifying offer / $1,445,697 cap hold): Non-Bird rights
Total (cap holds): $13,600,323
Unrestricted Free Agents / Other Cap Holds
Brandon Knight ($23,465,625): Bird rights
John Henson ($14,598,594): Bird rights
Langston Galloway ($13,933,333): Bird rights
No. 7 overall pick ($5,307,120)
Jordan McRae ($1,620,564): Early Bird rights
Christian Wood ($1,620,564): Early Bird rights
Jose Calderon ($1,620,564): Non-Bird rights 4
Jameer Nelson ($1,620,564): Non-Bird rights 4
Zaza Pachulia ($1,620,564): Non-Bird rights 4
Kalin Lucas ($1,445,697): Non-Bird rights 4
Isaiah Whitehead ($1,445,697): Non-Bird rights 4
Total: $68,298,886
Offseason Cap Outlook

Trading Drummond and his massive 2020/21 player option ensured that the Pistons should be one of a small handful of teams with actual cap room available this offseason.
Even if the cap doesn't increase beyond the '19/20 figure and the Pistons keep their non-guaranteed youngsters (Mykhailiuk, Brown, and Thomas), along with the cap hold for Wood, they project to have at least $29MM in space available. That number would increase a little with a larger cap.
Cap Exceptions Available
Room exception: $4,767,000 5
Trade exception: $1,716,873 (expires 2/8/21) 6
Footnotes
Thomas' salary becomes fully guaranteed after October 23.
If his team option is exercised, Mykhailiuk's salary becomes fully guaranteed after October 22.
Brown's new salary guarantee date is unknown.
The cap holds for Calderon, Nelson, Pachulia, Lucas, and Whitehead remain on the Pistons' books because they haven't been renounced after going unsigned in 2019/20. They can't be used in a sign-and-trade deal.
This is a projected value.
The Pistons will have to renounce this exception in order to use cap room.
Note: Minimum-salary and rookie-scale cap holds are based on the salary cap and could increase or decrease depending on where the cap lands.
Salary information from Basketball Insiders and Early Bird Rights was used in the creation of this post. Photo courtesy of USA Today Sports Images.