Hoops Rumors is looking ahead at the 2020/21 salary cap situations for all 30 NBA teams. Due to the impact of the coronavirus pandemic on the NBA, it's impossible to know yet where the cap for 2020/21 will land. Given the league's lost revenue, we're assuming for now that it will stay the same as the '19/20 cap, but it's entirely possible it will end up higher or lower than that.

The Rockets took small-ball to another level at this year's trade deadline when they sent Clint Capela to Atlanta in a four-team deal that left them without a real center. Houston's ensuing "micro-ball" experiment brought out the best in Russell Westbrook and looked awfully effective at times, though the team turned in a few March duds, including losses to New York and Charlotte.
If the NBA is unable to resume its 2019/20 season, not getting to see how the Rockets' lineup performed in the postseason will be a major loss — not just for fans, but for Houston's front office, which didn't get much of a sample to evaluate whether the experiment was worth extending beyond this season.
Here's where things stand for the Rockets financially in 2020/21, as we continue our Salary Cap Preview series:
Guaranteed Salary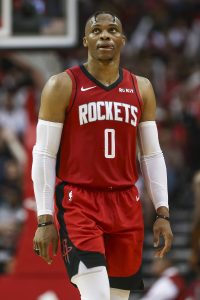 Russell Westbrook ($41,358,814)
James Harden ($41,254,920)
Eric Gordon ($16,869,276)
Robert Covington ($12,138,345)
P.J. Tucker ($7,969,537)
Danuel House ($3,717,000)
Troy Williams ($122,741) — Waived via stretch provision.
Total: $123,430,633

Player Options
Team Options
Non-Guaranteed Salary
Restricted Free Agents
Unrestricted Free Agents / Other Cap Holds
Tarik Black ($3,948,000): Non-Bird rights 3
Bruno Caboclo ($1,620,564): Early Bird rights
DeMarre Carroll ($1,620,564): Non-Bird rights
Tyson Chandler ($1,620,564): Non-Bird rights
Jeff Green ($1,620,564): Non-Bird rights
Thabo Sefolosha ($1,620,564): Non-Bird rights
Kenneth Faried ($1,620,564): Non-Bird rights 3
Trevon Duval ($1,445,697): Non-Bird rights 3
Total: $15,117,081
Offseason Cap Outlook

With more than $123MM in guaranteed money committed to just six players for the 2020/21 season, the Rockets figure to exceed the luxury tax line if it stays at $132.6MM, and could become a taxpayer even if faced with a more forgiving tax threshold.
Of course, Houston has navigated its way out of the tax in each of the last two years, and team owner Tilman Fertitta has been particularly hard this season by the club's lost China revenue and the coronavirus pandemic, which has affected many of his other businesses. As such, it wouldn't be a surprise to see the Rockets cut costs, at least to some extent. For now, we're assuming they'll be limited to the taxpayer's mid-level exception, but that could change.
Cap Exceptions Available
Taxpayer mid-level exception: $5,718,000 4
Trade exception: $3,595,333 (expires 2/5/21)
Trade exception: $2,564,753 (expires 2/5/21)
Trade exception: $1,620,564 (expires 2/5/21)
Trade exception: $1,620,564 (expires 2/8/21)
Footnotes
McLemore's salary becomes fully guaranteed after October 18.
The cap holds for Black, Faried, and Duval remain on the Rockets' books because they haven't been renounced after going unsigned in 2019/20. They can't be used in a sign-and-trade deal.
This is a projected value. If the team cuts costs, it could have the full mid-level exception ($9,258,000) and bi-annual exception ($3,623,000) available.
Note: Minimum-salary and rookie-scale cap holds are based on the salary cap and could increase or decrease depending on where the cap lands.
Salary information from Basketball Insiders and Early Bird Rights was used in the creation of this post. Photo courtesy of USA Today Sports Images.