Hoops Rumors is looking ahead at the 2020/21 salary cap situations for all 30 NBA teams. Due to the impact of the coronavirus pandemic on the NBA, it's impossible to know yet where the cap for 2020/21 will land. Given the league's lost revenue, we're assuming for now that it will stay the same as the '19/20 cap, but it's entirely possible it will end up higher or lower than that.

Despite some speculation that they'd struggle without Victor Oladipo for the first half of the 2019/20 season, the Pacers were just fine, thanks to a hot start by Malcolm Brogdon and a breakout season from Domantas Sabonis.
Oladipo's rust following his 12-month absence contributed to some up-and-down play (Indiana was 9-9 after his return), but it would be interesting to see if a fully healthy version of the roster could win a playoff series in the East. With 11 players of this year's players on guaranteed contracts for next season, the Pacers could run it back with a pretty similar squad in 2020/21.
Here's where things stand for the Pacers financially in 2020/21, as we continue our Salary Cap Preview series:
Guaranteed Salary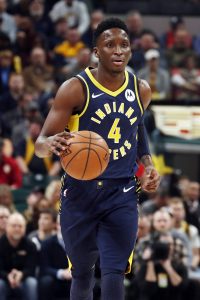 Victor Oladipo ($21,000,000)
Malcolm Brogdon ($20,700,000)
Domantas Sabonis ($18,500,000)
Myles Turner ($18,000,000)
T.J. Warren ($11,750,000)
Jeremy Lamb ($10,500,000)
Doug McDermott ($7,333,333)
T.J. Leaf ($4,326,825)
Goga Bitadze ($2,957,520)
Aaron Holiday ($2,345,640)
Monta Ellis ($2,245,400) — Waived via stretch provision.
Edmond Sumner ($2,160,000)
T.J. McConnell ($1,000,000) — Partial guarantee. Non-guaranteed portion noted below. 1
Total: $122,818,718

Player Options
Team Options
Non-Guaranteed Salary
T.J. McConnell ($2,500,000) 1
Total: $2,500,000

Restricted Free Agents
Alize Johnson ($1,820,564 qualifying offer / $1,820,564 cap hold): Early Bird rights
Brian Bowen (two-way qualifying offer / $1,445,697 cap hold): Non-Bird rights
Naz Mitrou-Long (two-way qualifying offer / $1,445,697 cap hold): Non-Bird rights
Total (cap holds): $4,711,958

Unrestricted Free Agents / Other Cap Holds
Offseason Cap Outlook

Last summer's series of transactions – adding Brogdon, Warren, and Lamb, while extending Sabonis – will limit the Pacers' flexibility going forward and eliminate any chance that they'll have cap room during the 2020 offseason.
Still, barring a trade that adds salary, an aggressive deployment of the full mid-level exception, or an unexpected decline in the salary cap, the team should have a decent amount of breathing room below the tax line.
Cap Exceptions Available
Mid-level exception: $9,258,000 2
Bi-annual exception: $3,623,000 2
Footnotes
McConnell's salary becomes fully guaranteed after October 17.
This is a projected value. If the Pacers' team salary continues to increase, it's possible they'd be limited to the taxpayer mid-level exception ($5,718,000).
Note: Minimum-salary and rookie-scale cap holds are based on the salary cap and could increase or decrease depending on where the cap lands.
Salary information from Basketball Insiders and Early Bird Rights was used in the creation of this post. Photo courtesy of USA Today Sports Images.