Hoops Rumors is looking ahead at the 2020/21 salary cap situations for all 30 NBA teams. Due to the impact of the coronavirus pandemic on the NBA, it's impossible to know yet where the cap for 2020/21 will land. Given the league's lost revenue, we're assuming for now that it will stay the same as the '19/20 cap, but it's entirely possible it will end up higher or lower than that.

The 2019/20 season represented a return to form for the Heat, who endured some up-and-down seasons following LeBron James' departure in 2014. Prior to the NBA's hiatus, they were a top-four team in the East with a 41-24 record.
In addition to their success on the court, the Heat also managed to create some major cap flexibility at the trade deadline by moving Dion Waiters and James Johnson in a three-team deal. The trade ensures that Miami could be one of just a handful of teams with cap room this offseason. However, with several of their own free agents to address, the Heat may end up rolling that cap space over to 2021.
Here's where things stand for the Heat financially in 2020/21, as we continue our Salary Cap Preview series:
Guaranteed Salary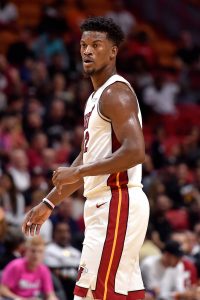 Jimmy Butler ($34,379,100)
Andre Iguodala ($15,000,000)
Ryan Anderson ($5,214,583) — Waived via stretch provision
Bam Adebayo ($5,115,492)
Tyler Herro ($3,822,240)
KZ Okpala ($1,517,981)
Chris Silva ($1,517,981)
A.J. Hammons ($350,087) — Waived via stretch provision
Total: $66,917,464

Player Options
Team Options
Non-Guaranteed Salary
Restricted Free Agents
Unrestricted Free Agents / Other Cap Holds
Goran Dragic ($28,826,850): Bird rights
Solomon Hill ($19,138,172): Bird rights
Meyers Leonard ($16,929,773): Bird rights
Jae Crowder ($14,849,513): Bird rights
No. 20 overall pick ($2,582,160)
Udonis Haslem ($1,620,564): Bird rights
Derrick Jones ($1,620,564): Bird rights
Luke Babbitt ($1,620,564): Non-Bird rights 2
Jordan Mickey ($1,620,564): Non-Bird rights 2
Dwyane Wade ($1,620,564): Early Bird Rights 2
Total: $90,429,288
Offseason Cap Outlook

The Heat could go in any number of directions this offseason. Assuming they account for their guaranteed contracts, Nunn and Robinson, Olynyk's player option (likely to be exercised), and the cap hold for their first-round pick, they could get up to nearly $22MM in room, even if the cap doesn't increase.
However, with some combination of Dragic, Jones, Crowder, Leonard, Hill, and Haslem likely to be retained, I'd expect Miami to operate as an over-the-cap team this offseason. Assuming those free agents ink one-year deals or modest multiyear pacts, the Heat could maintain enough flexibility to pursue Giannis Antetokounmpo or another star in 2021.
Cap Exceptions Available
Mid-level exception: $9,258,000 3
Bi-annual exception: $3,623,000 3
Trade exception: $7,533,867 (expires 2/8/21) 4
Footnotes
Robinson's new salary guarantee date is unknown.
The cap holds for Babbitt, Mickey, and Wade remain on the Heat's books because they haven't been renounced after going unsigned in 2019/20. They can't be used in a sign-and-trade deal.
These are projected values. If the Heat go under the cap to use room, they'd lose these exceptions, but would gain access to the room exception ($4,767,000). If their team salary approaches the tax apron, it's possible they'd be limited to the taxpayer mid-level exception ($5,718,000).
The Heat would lose this exception if they go under the cap to use room.
Note: Minimum-salary and rookie-scale cap holds are based on the salary cap and could increase or decrease depending on where the cap lands.
Salary information from Basketball Insiders and Early Bird Rights was used in the creation of this post. Photo courtesy of USA Today Sports Images.