Hoops Rumors is looking ahead at the 2020/21 salary cap situations for all 30 NBA teams. Due to the impact of the coronavirus pandemic on the NBA, it's impossible to know yet where the cap for 2020/21 will land. Given the league's lost revenue, we're assuming for now that it will stay the same as the '19/20 cap, but it's entirely possible it will end up higher or lower than that.

With or without the NBA's hiatus, the Spurs' 22-year postseason streak was likely going to come to an end this year, as the team appears headed to the draft lottery for the first time since 1997.
The last time San Antonio bottomed out, the team lucked into Tim Duncan, but a top draft pick is a long shot for this year's squad, and there doesn't appear to be a surefire franchise player in the 2020 draft class anyway. The Spurs probably shouldn't rely on free agency to turn things around either — the team won't have much spending flexibility if DeMar DeRozan exercises his $27MM+ player option.
Here's where things stand for the Spurs financially in 2020/21, as we continue our Salary Cap Preview series:
Guaranteed Salary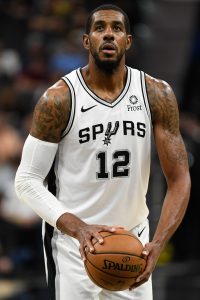 LaMarcus Aldridge ($24,000,000)
Rudy Gay ($14,500,000)
Dejounte Murray ($14,286,000)
Patty Mills ($13,285,714)
DeMarre Carroll ($6,167,887) — Waived via stretch provision
Derrick White ($3,516,284)
Lonnie Walker ($2,892,000)
Luka Samanic ($2,824,320)
Keldon Johnson ($2,048,040)
Trey Lyles ($1,000,000) — Partial guarantee. Non-guaranteed portion noted below. 1
Total: $84,520,245

Player Options
Team Options
Non-Guaranteed Salary
Restricted Free Agents
Jakob Poeltl ($4,642,800 qualifying offer / $11,264,658 cap hold): Bird rights
Drew Eubanks ($1,620,564 qualifying offer / $1,620,564 cap hold): Early Bird rights
Quinndary Weatherspoon (two-way qualifying offer / $1,445,697 cap hold): Non-Bird rights
Total (cap holds): $14,330,919

Unrestricted Free Agents / Other Cap Holds
Marco Belinelli ($7,600,000): Early Bird rights
Bryn Forbes ($5,462,500): Bird rights
No. 11 overall pick ($4,033,440) 3
Dante Cunningham ($2,984,400): Non-Bird rights 4
Nikola Milutinov ($2,035,800) 5
Joffrey Lauvergne ($1,620,564): Non-Bird rights 4
David Lee ($1,620,564): Non-Bird rights 4
Donatas Motiejunas ($1,620,564): Non-Bird rights 4
Quincy Pondexter ($1,620,564): Non-Bird rights 4
Matt Costello ($1,445,697): Non-Bird rights 4
Darrun Hilliard ($1,445,697): Non-Bird rights 4
Ben Moore ($1,445,697): Non-Bird rights 4
Total: $30,899,687
Offseason Cap Outlook

The Spurs' cap outlook for 2020/21 is one of the trickiest to project. With approximately $88.6MM locked in for eight guaranteed contracts and a draft pick, San Antonio doesn't initially appear to be in terrible shape financially. But if DeRozan opts in, it would increase the club's guaranteed commitments to $116MM+. And that's before accounting for the possibility of re-signing players like Poeltl and/or Forbes and filling out the rest of the roster.
There have been rumblings that DeRozan might not be thrilled with his current situation, so he's not a stone-cold lock to opt in. But given the league's financial outlook, I'd be surprised if he doesn't do so. My guess is that he'll ultimately pick up that option and that the Spurs will try to re-sign at least one of Poeltl or Forbes — perhaps both if the team can get them at reasonable prices or if money can be shed elsewhere.
With so many of their contracts set to expire in 2021, the Spurs won't do anything rash to cut costs, but they aren't going to go into the tax for the current roster either. It'll be interesting to see how they handle this offseason, especially if the cap doesn't increase at all.
Cap Exceptions Available
Mid-level exception: $9,258,000 6
Bi-annual exception: $3,623,000 6
Footnotes
Lyles' salary becomes fully guaranteed after October 18.
Metu's new salary guarantee date is unknown.
The cap hold for this pick will depend on where it ultimately falls in the lottery. Currently, the Spurs rank 11th in the lottery standings.
The cap holds for Cunningham, Lauvergne, Lee, Motiejunas, Pondexter, Costello, Hilliard, and Moore remain on the Spurs' books because they haven't been renounced after going unsigned in 2019/20. They can't be used in a sign-and-trade deal.
The 26th overall pick in 2015, Milutinov has yet to sign his rookie scale contract. His cap hold will remain on the Spurs' books unless the team receives permission to remove it, which would ensure Milutinov won't be signed in 2020/21.
These are projected values. If the Spurs' team salary continues to increase, they may be limited to the taxpayer mid-level exception ($5,718,000).
Note: Minimum-salary and rookie-scale cap holds are based on the salary cap and could increase or decrease depending on where the cap lands.
Salary information from Basketball Insiders and Early Bird Rights was used in the creation of this post. Photo courtesy of USA Today Sports Images.