Trail Blazers forward Trevor Ariza will voluntarily opt out of participating in the NBA's restart this summer, according to ESPN's Adrian Wojnarowski.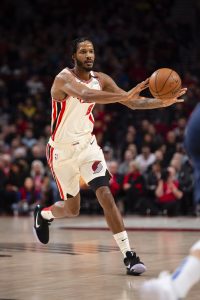 As Wojnarowski explains, Ariza has been involved in a custody case over his 12-year-old son, and the mother has granted a court-ordered one-month visitation period that overlaps with the NBA's time in Orlando.
The NBA isn't permitting family members to join players in the Disney bubble until after the first round of the postseason, forcing Ariza to make a choice. He has decided to spend that month with his son rather than joining the Blazers.
Ariza had established himself as a key part of the Blazers' lineup since being acquired in a midseason trade. He had started 21 games for Portland, averaging 11.0 PPG and 4.8 RPG on .491/.400/.872 shooting in 33.4 minutes per contest.
The Blazers will miss Ariza's three-and-D ability on the wing as they attempt to push for the final playoff spot in the Western Conference. Currently, Portland is 3.5 games back of the Grizzlies for the No. 8 seed — the team would force a play-in tournament if it finishes within four games of Memphis and hangs onto the No. 9 seed.
With Ariza no longer in the mix and Rodney Hood out for the season, the Blazers will have to rely on the likes of Carmelo Anthony, Mario Hezonja, Nassir Little, and Gary Trent on the wing.
As Bobby Marks of ESPN notes (via Twitter), the Blazers have an open roster spot and will also be eligible to add a substitute player in Ariza's place. With their star guards healthy and Jusuf Nurkic and Zach Collins due back from injuries to fortify the frontcourt, Portland can afford to focus on the wing as it considers potential roster additions.
Photo courtesy of USA Today Sports Images.