Spurs big man LaMarcus Aldridge has undergone a surgical procedure on his right shoulder and will miss the remainder of the 2019/20 season, the club announced today in a press release.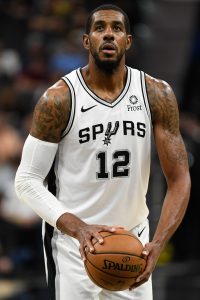 According to the Spurs, Aldridge underwent an arthroscopic subacromial decompression and rotator cuff debridement. San Antonio's announcement indicates that the 34-year-old had the procedure on April 24, so it sounds as if the team has known for the last month-and-a-half that he'll be sidelined until next season.
Aldridge initially injured his shoulder on February 21. After suiting up for the Spurs' next game on February 23, he missed six contests and returned to action on March 10 for the club's last game before the season was suspended.
With Aldridge on the shelf until the start of training camp in 2020/21, the Spurs will be an even longer shot for the No. 8 seed in the West this summer. Currently, the team sits four games back of Memphis, but would have to pass Sacramento, New Orleans, and Portland in the standings in order to become the team that forces a play-in tournament with the Grizzlies. If the Spurs don't make the postseason, their 22-year playoff streak will come to an end.
As Bobby Marks of ESPN notes (via Twitter), the the NBA's proposed roster rules for the restart would allow San Antonio to sign an injury replacement for Aldridge. That player would had to have played in the NBA or G League this season.
As for Aldridge's future, he's under contract with the Spurs for one more season, with a $24MM cap hit for 2020/21. He'd become an unrestricted free agent in 2021 if he's not extended before then.
The seven-time All-Star remained productive for San Antonio in 2019/20, averaging 18.9 PPG, 7.4 RPG, and 1.6 BPG with a .493/.389/.827 shooting line in 53 games (33.1 MPG).
Photo courtesy of USA Today Sports Images.