Veteran NBA forward Vince Carter has officially announced his retirement from basketball, confirming and discussing the decision on the latest episode of his Winging It podcast with Annie Finberg.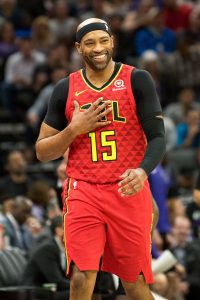 "I'm officially done playing basketball professionally," Carter said.
Carter's career came to a slightly earlier-than-expected end when the NBA was forced to suspend its season on March 11 due to the coronavirus pandemic. The Hawks still had 15 games left at that point, but they won't be part of the resumption of the season in Orlando this summer.
Atlanta's last game of 2019/20 against the Knicks was still in progress when the NBA announced the suspension of the season. Recognizing that it might be the Hawks' – and Carter's – last game, head coach Lloyd Pierce had the 43-year-old check in with just 19 seconds left in overtime — he knocked down a three-pointer on the last shot of his career before time expired.
The fifth overall pick in the 1998 draft, Carter spent his first six-and-half NBA seasons in Toronto, emerging as a star and helping lead the Raptors to the first three playoff appearances in franchise history, including their first postseason series win in 2001. He earned the nickname "Air Canada" during those years and played a large role in growing basketball's popularity in the country, contributing in part to the influx of Canadian players we've seen enter the NBA in recent years.
Carter played his next four-and-a-half seasons in New Jersey with the Nets, then began bouncing around the league with a little more frequency, spending time with the Magic, Suns, Mavericks, Grizzlies, Kings, and Hawks before retiring this year following his record-setting 22nd NBA season.
For his career, the former UNC standout averaged 16.7 PPG, 4.3 RPG, and 3.1 APG in 1,541 regular season games (30.1 MPG). He also appeared in another 88 postseason contests, averaging 18.1 PPG.
A two-time All-NBA selection and an eight-time All-Star, the veteran swingman also won the NBA's Rookie of the Year award in 1999 and the Slam Dunk Contests in 2000. He earned a gold medal with Team USA at the 2000 Sydney Olympics, memorably dunking over French center Frederic Weis during those games.
Carter never won a championship, but didn't prioritize chasing a ring during his final few NBA seasons, opting instead to join young teams like the Kings and Hawks, where he could play regular minutes and impart veteran wisdom upon those clubs' up-and-coming prospects.
The Hawks issued a statement today congratulating Carter on his retirement and thanking him for the time he spent with the organization, calling it an "honor" to the franchise that "he completed his Hall-of-Fame career wearing Atlanta across his chest and representing our city."
Photo courtesy of USA Today Sports Images.