It has been nearly three-and-a-half months since an NBA team made a transaction. On March 10, the Warriors signed guard Mychal Mulder to a multiyear contract. Two days later, a report indicated that the Suns had waived two-way player Jared Harper.
However, by then, the 2019/20 season had already been halted due to the coronavirus pandemic, with the NBA and NBPA agreeing shortly thereafter to a moratorium that halted roster activity. As a result, signings, waivers, and other transactions have been on hold for months, and Harper still hasn't technically cleared waivers.
As a weekend report indicated, Harper will hit waivers on Tuesday, once the NBA officially opens a week-long transaction window for all 30 teams, including the eight that aren't participating in the resumed season. That window will open today at noon eastern time and will close next Tuesday (June 30) at 11:59pm ET.
However, not every form of transaction will be permitted once that moratorium lifts in less than 24 hours. With the help of Bobby Marks' primer at ESPN.com and a handful of other reports, here's a breakdown of what we can expect during the league's week-long transaction window:
Teams will be permitted to convert players on two-way contracts to standard deals.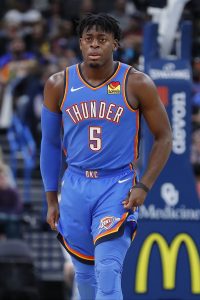 This may not be as pressing a priority for some teams as it typically would be, since the NBA will allow players on two-way contracts to play in the postseason for this year only. That means a player like Chris Chiozza (Nets) doesn't necessarily need to sign a standard contract to participate in the playoffs.
Still, there's incentive for teams to do so if there's a spot available on their 15-man rosters, as is the case with the Thunder and Luguentz Dort. Oklahoma City could potentially get Dort locked up to a more team-friendly contract, and moving him to the 15-man roster would open up a two-way contract slot.
The top 22 teams will be able to sign players to two-way contracts (as of June 27).
Normally, January 15 represents the last day that teams can sign a player to a two-way contract. After that date, no two-way signings are permitted until the new league year begins. This year, however, the teams participating in the Orlando restart will be able to sign players to two-way contracts, starting Saturday, assuming they have a spot available or can open one up.
As our two-way contract tracker shows, the Suns and Sixers currently have open two-way slots. A team like the Thunder could create one if they convert a player to their standard roster.
On the other hand, a bottom-eight team with a two-way opening, such as the Hawks or Warriors, won't be permitted to fill it during this week's transaction window, since the rule change is designed to give teams in Orlando some added depth.
The usual rules will apply to eligibility for two-way players, so a team won't be able to sign a 10-year veteran to a two-way deal.
Teams will be able to sign free agents or make waiver claims using open roster spots.
Teams that don't have full 15-man rosters will be given the opportunity to sign players to fill those open spots, whether or not they're participating in the resumed season. Any player who played in the NBA or G League and wasn't on a professional non-NBA roster after September 30, 2019 is eligible to sign, per Marks.
Players such as J.R. Smith and Jamal Crawford, who weren't in the NBA this season, are also eligible to be signed, since they didn't play in an international league. A player like Greg Monroe, who played for Bayern Munich in Germany during the 2019/20 season, wouldn't be eligible to sign with an NBA team now.
The Nuggets, Suns, Trail Blazers, Spurs, and Thunder are among the top 22 teams with open roster spots. The Clippers, Grizzlies, and Kings also have openings, though they're expected to be filled by Joakim Noah, Anthony Tolliver, and Corey Brewer, respectively.
Rest-of-season or multiyear contracts are permitted. Obviously, for bottom-eight teams, a rest-of-season contract wouldn't provide any value, so if those clubs make roster additions, they'll be multiyear deals. The Hornets, Cavaliers, Pistons, Warriors, and Timberwolves currently have open roster spots.
Rest-of-season, minimum-salary contracts will be worth 20/177th of their full-season values. Marks has the specific breakdown right here. Interestingly, Marks also notes that any free agent who signs a rest-of-season contract will become an unrestricted free agent at season's end, even if he doesn't have four years of NBA experience.
Teams will be able to waive players.
Of course, even if a team doesn't currently have a roster spot available, that club could open one up by waiving one of its current players. For example, the Hawks may decide that it makes sense to release retiring forward Vince Carter in order to create space to sign a promising G League prospect to a long-term deal.
Playoff teams with full 15-man rosters may also consider making a cut or two to bring in someone new. The Rockets and Mavericks are reportedly among the teams mulling a change.
A player waived after March 1 is ineligible to participate in the postseason with a new team, so that rule applies to anyone waived during the transaction window too. For instance, the Mavs couldn't pick up Carter for a playoff run if Atlanta cuts him.
As Marks notes (via Twitter), Sunday, June 28 at 5:00pm ET will be the deadline this week to release a player, in order to ensure that the player clears waivers before the transaction window closes on Tuesday night.
Teams will be able to sign "substitute players" — under certain circumstances.

Even without an open roster spot, a team will be permitted to sign a "substitute player" to replace a player who meets one of the following criteria:
Tests positive for COVID-19.
Is deemed "protected" or "excused" from participating for health reasons related to COVID-19.
Voluntarily opts out of participating by June 24, forfeiting at least eight games' worth of salary.

Note: A player who opts out can't lose more than 14 games' worth of salary, per Marks.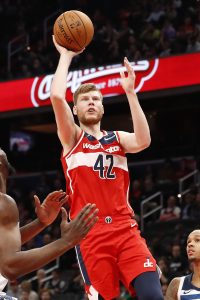 In other words, players like Trevor Ariza and Davis Bertans, who have voluntarily opted out, can be replaced with substitute players by the Trail Blazers and Wizards, respectively, without those teams needing to open up roster spots.
However, an injured player can't be replace by a substitute player, meaning the Nets can't sign free agents to replace Kevin Durant and Kyrie Irving without an opening on their 15-man roster. They'll likely designate their two-way players – Chiozza and Jeremiah Martin – as Durant's and Irving's replacements instead.
Substitute players are subject to slightly different rules than typical free agent signees. They can't be signed to multiyear deals, and their salaries won't count against a team's cap or tax. They also can be signed as of July 1, rather than during this week's transaction window.
Substitutes for players meeting any of the criteria listed above can be signed until August 14, the last day of the seeding games. After that, they can be signed only if a player tests positive for COVID-19. A substitute player signed after the seeding games are over must have between zero and three years of service, ruling out certain veterans. The substitute player will also have to quarantine for a minimum of seven days upon arriving in Orlando.
If a player is replaced by a substitute player, he becomes ineligible to return this summer. For instance, if the Wizards sign a player to replace Bertans, then Bertans wouldn't be able to have a change of heart and rejoin the Wizards in the event that they claim the No. 8 seed in the East.
Teams won't be able to make trades.
The one type of transaction that we won't see at all this week is a trade. Because the 2019/20 trade deadline passed in February and the season isn't over yet, those deals remain off the table for the time being, so any roster changes will have to come in the form of signings, waiver claims, or cuts.
Photos courtesy of USA Today Sports Images.